Dynamite Conference
September 30 – October 2, 2022
in Boise, Idaho
Although holding degrees in both Biology and Chiropractic, Dr. Golob is noted for vastly expanding his knowledge beyond the confines of any single discipline. He integrates his knowledge of the healthy functioning of all aspects of humans, animals, microorganisms, and plants to guide and nurture people and animals to optimum health. Dr. Golob does not treat illness and disease. Instead, he aids in awareness and enhancement of total health. Through his guidance, people become capable of replacing illness and disease with excellent health through learning to make better choices.
The stuff NOT in the bio (comments from The Home Office)
"Doc Golob" is a Gold Director and has been with Dynamite for 33 years. He has played a serendipitously key role in the Dynamite that we know and love today. His real-world application of our product line through the years has lead to numerous discoveries that he openly shares. Through his hands-on experience and intuition, Doc Golob has helped improve our formulas, suggested synergistic product combinations, and has even introduced entirely new products to the benefit of everyone. A word of refreshing awareness– don't expect him to confine himself to anyone's preconceived "box". He sees no walls and won't waste time dancing around yours.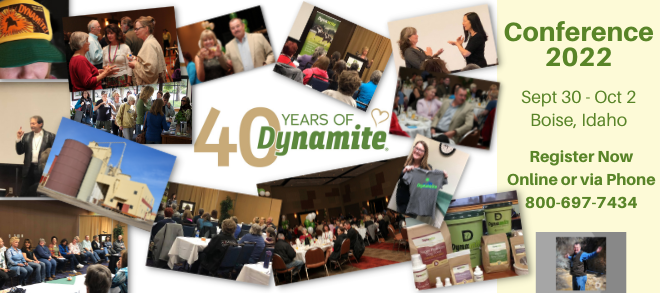 To learn more about Dynamite's 2022 Conference, click here!