Blood lines, training, nutrition, a whole bunch of work and a pinch of luck. This is the recipe for a champion. At Dynamite, we believe that in order to bring out an animal's full potential you need to provide them with the best in nutrition. Without it, it is the equivalent to buying the most perfect race car and not putting any gas in the tank. Distributor Willemina De Boer of Texas shared with us her story of building a champion endurance racer. Her "recipe" includes a phenomenal horse, Frisia Shaheen, and a complete Dynamite equine protocol.
"Frisia Shaheen in an eight-year-old, grey gelding, Asil Arabian Horse. Frisia Shaheen is a descendant of the famous Serenity Horses, Asil Arabian Horses imported from the dessert. My beautiful mare Serenity Arufa, was bred to my beloved stallion Serenity Shahail. She gave birth to a long-legged, curious, copper-colored colt, that has grown into a very tall, athletic, grey horse.
"I took the time to train Frisia Shaheen and bring him along slowly. He is still curious and always ready to go with me and run fast—wind flowing through his hair. I always have to be alert. He is very flexible and can jump 6 feet sideways in an instant. He likes to push me and do things his way, then socialize and be the center of attention. The past year we traveled all over the United States. He has become a pro and a dependable horse. I have an incredible bond with him—he is my special boy.
"Frisia Shaheen is the product of the Serenity Breeding Program and is doing wonderfully in endurance as well as being my best pal and companion. Desert Arabians can do it all, be international competitors and beloved friends capable of the closest of relationships.
"Frisia Shaheen started his endurance career in February 2012 with a 25-mile ride at the Houston airport after everything had flooded. We went 25 miles through mud and was up to his belly in water when we had to cross a ditch. The good that came out of this is that after that he did not care about mud anymore. At the end of May 2012 he rode his first 50 miler and came in the top 10 and again in June with another top-ten finish. In July, we went to Fort Stanton where he rode two days—30 and 35 miles. Both days he came in first and received the Best Condition Award. He had so much power and so much joy in his strength that we came in 30 minutes ahead of everyone! Thanksgiving 2012, he won another Best Condition in the 50 mile race. In the summer of 2013, I took him to California to experience some real mountains. At the Wild West Pioneer 35 mile race he came in second and won the Best Condition award. In October 2013, in New Mexico he did his first FEI star and came in second place and received Best Condition. In February 2014, we traveled through snow and ice to Broxton Bridge Plantation, South Carolina. He received his second FEI star after riding in the rain a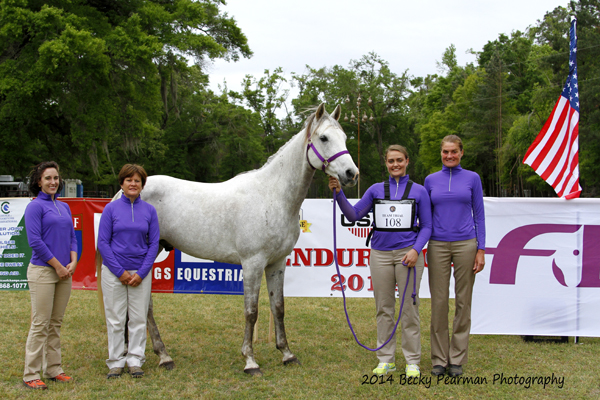 nd mud all day. He was such a trooper. In March of this year, we went back to New Mexico for his third FEI star. He won the 100 mile race and received another Best Condition award."
"After all the qualifications and selection trials we made the long list of the US Team for the WEG in France!

"I also received a personal invitation by Sheik Mohammed bi Rashid al Maktoum to ride in the Endurance Cup in Dubai on January 10th. I am conditioning Shaheen for the 100 mile in the desert and making preparations for shipment from Houston to Dubai."
Willemina De Boer
Dynamite Distributor, Texas
What's the winning Dynamite combination?
Frisia Shaheen's Dynamite protocol includes the equine foundation program of Dynamite, Dyna Pro, Free Choice Vitamin and Mineral Salt Mix, and Izmine. Willemina also feeds 2 to 1 Free Choice and SOD a few times a week. For kidneys and liver she uses Herbal Tonic or Herbal Green. All her horses get Pre-Race Pak a few days before a ride and during the ride. On racing day and the day after, they get Premium E-Selenium to prevent tying up. Willemina uses Easy Balance for extra magnesium and to help balance blood sugars. She will also give Dyna Spark before, during and after a race. Release is used for sore muscles, wounds and bruises and Balm on the coronet band of the hooves for grounding and flexibility.
Willemina has started feeding PGR (Pelleted Grain Ration) as well. She has found that that it has increased her horses speed and stamina. PGR has "made a big difference in the longer rides because it is more absorbable and digestible. They had a short break at the vet check, eat the bucket with supplement and PGR and were ready to go again."
You can read more about Wilemina's other endurance champion horse, Frisia Mameluk, on page 10 of the Dynamite product catalog. Frisia Mameluk and Wilemina placed 13th in the 2013 Tevis Cup, the oldest modern endurance ride. The Tevis Cup, or the Western States Trail Ride, is a single day, 100-mile race over some incredibly rugged terrain from Lake Tahoe to Auburn.
If you have a Dynamite story you'd like to share with us, please send it to us here.
*The statements made on this page were given freely and are the sole opinions of the author. We always caution that one person's experience is not a guarantee of results. The statements have not been evaluated by the FDA and are not intended to diagnose, treat, cure, prevent or mitigate any disease. Dynamite Specialty Products takes a firm stance that our products always be used in accordance with the opinions and expertise of your trusted health care professional, doctor and/or veterinarian.