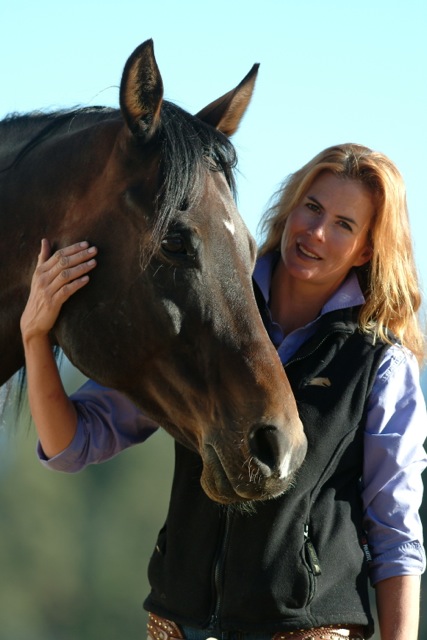 Kelly Patterson is a 3 star Parelli instructor and Dynamite distributor. She was kind enough to share with us her Dynamite story. We caught up with Kelly in Florida while she was working with Linda Parelli.
Kelly's Story:
While traveling, Kelly's horse, Buckley, became very ill. He was so sick that he had started losing his hair. Kelly turned to her best friend, Brenda Ladd, who happens to be a Dynamite distributor. Brenda started Kelly's horse on an equine Foundation Dynamite Program (Dynamite, Free Choice Minerals and Dyna Pro) and Free & Easy. Within a couple of weeks you wouldn't have known he had been so sick.
Almost as a natural instinct, Kelly turned to Dynamite to improve her own health as well. Using the Dynamite Human Foundation Program and 180, Kelly lost 44 pounds in 2014. Kelly had not been successful at losing weight and keeping it off with other programs after the birth of her son. Kelly travels and teaches a lot so staying on protocol wasn't always easy for her but she did the best she could. Her one key piece of advice is "Don't do the protocol without DM Plus and Tri-Mins!" Kelly said there were two days when she was traveling that she ran out of her supplements (DM Plus and Tri-Mins) and she said the craving really kicked in.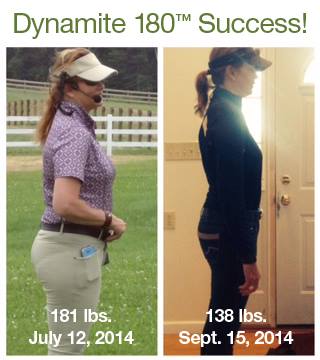 Kelly, now a distributor herself, hosts her own Facebook group for her 180 customers to encourage and help them succeed in their own journey of gaining their health back. One of her strategies while doing 180 is she doesn't really count calories.  "I eat all the veggies I want as long as they are on protocol and then measure my protein."
Kelly has several keys to her success as a distributor. The first is that she believes in the products. People recognize her sincerity and honesty when she shares her stories of success with Dynamite products. Selling is as simple as that "just share your story," says Kelly. Kelly is a avid fan of Facebook to help with the process too. She recommends the use of pictures when posting on Facebook for more attention and impact.
She has some sound advice for new distributors. "Don't chase after people for the sale. I just tell people how it helped me and my horse. It's not about selling but about sharing. Be honest, people are skeptical of new things. People respect integrity and will want what you share."
If you have a Dynamite story you'd like to share with us, please send it to us here.
*The statements made on this page were given freely and are the sole opinions of the author. We always caution that one person's experience is not a guarantee of results. The statements have not been evaluated by the FDA and are not intended to diagnose, treat, cure, prevent or mitigate any disease. Dynamite Specialty Products takes a firm stance that our products always be used in accordance with the opinions and expertise of your trusted health care professional, doctor and/or veterinarian