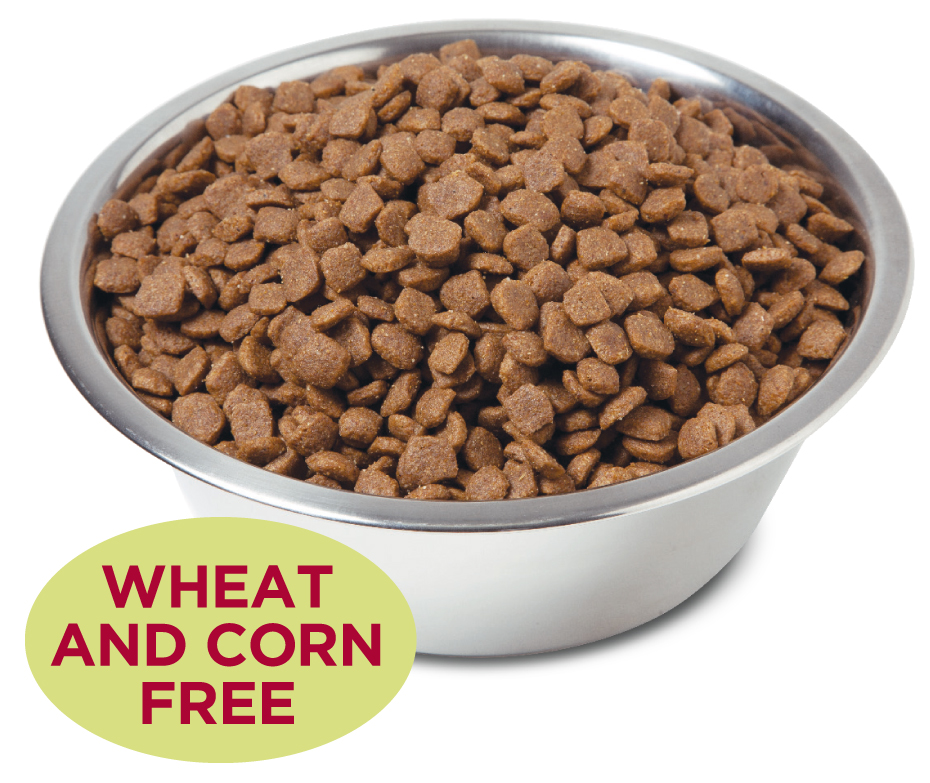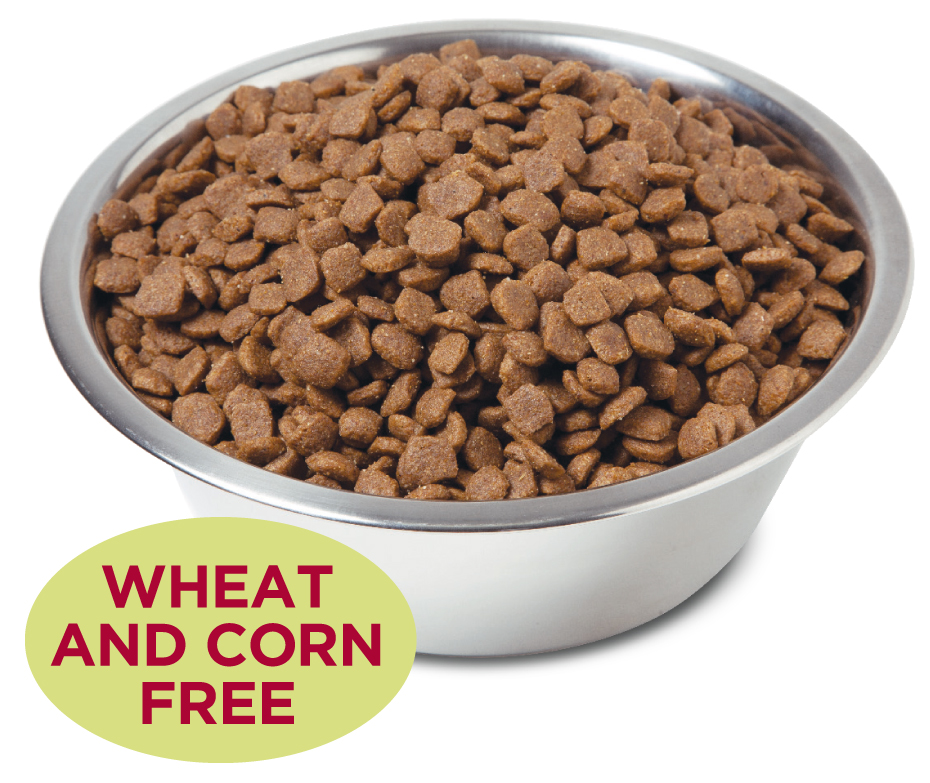 "The current lawsuit [against Purina] is addressing a major issue that doesn't seem to be changing with grassroots action. It brings to light the industry standards (not just Purina's, but most commercial pet food manufacturers' standards) that allow known toxins and carcinogens to be used in pet foods. While it is a wonderful selling point to Dynamite that we don't use those ingredients, we hope the industry as a whole will do the right thing, acknowledge harmful ingredients and stop diverting their eyes from the evidence of harm. A rising tide raises all ships and higher industry standards will directly and positively impact the voiceless lives of all creatures eating commercial pet foods, even if they aren't our customers."
Callie Zamzow Novak,
Dynamite Specialty Products CEO
Super Premium Dog Food all natural, corn-free, wheat-free kibble
Man's best friend deserves only the best in a quality food. Dynamite uses the purest and highest-quality ingredients in our Super Premium Dog Food to meet the essential dietary needs for your dog. This superior kibble is made with select ingredients to ensure efficiency of digestion and nutrient intake while being free of common allergens, corn and wheat.
–    Hand-trimmed, USDA chicken and turkey
–    Fresh, low-ash lamb
–    Chicken cartilage, rich in natural glucosamine
–    Naturally preserved fish meal and salmon oil for essential Omega-3 fatty acids
–    All-natural prebiotics and probiotics to aid digestion
Super Premium Dog Food is made with a state-of-the-art, low-temperature, high-moisture process to assure all starch is cooked and to help preserve the natural proteins, minerals and vitamins in the ingredients. It is free of preservatives, ethoxyquin, mycotoxins and harmful chemicals of any kind. For a full list of Super Premium's ingredients click here.
Every batch of Super Premium Dog Food undergoes stringent quality control checks and random and periodic inspections by outside agencies, to ensure quality and safety. These programs cover feed ingredients, warehousing, pest control, maintenance, sanitation, sampling and lab analysis, GMPs, SOPs, HAACP and employee training, to name a few. All products are tested by an outside agency for the presence of pathogenic bacteria before they are released for distribution.
Super Premium Dog Food is an ideal diet for all breeds of dogs in every life stage!
Dynamite's Canine Foundation Program for Premium Nutritional Balance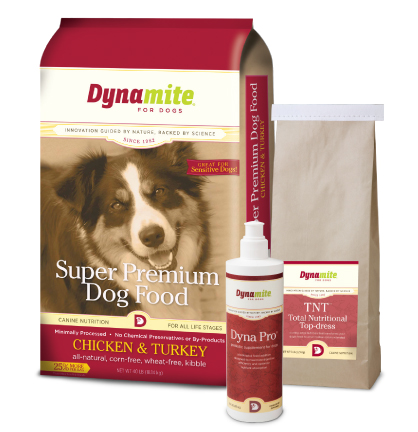 Canine TNT and Dyna Pro along with Dynamite's Super Premium Dog Food make up our Canine Foundation Program. This combination of products provides your dog with premium nutrition and proper nutrient assimilation.
Canine TNT is a is an all-in-one foundational vitamin and mineral supplement containing enzymes, co-enzymes and amino acids in a convenient delicious "gravy". Over the years dogs whose owners have top-dressed their meals with unprocessed, balanced supplements, experience fewer allergies, joint problems, digestive upset and other issues that result in veterinary visits. Additionally, it is believed that dogs who regularly consume a natural balance of viable nutrients, like those found in Canine TNT, have more longevity–meaning you get more years with your pal.
Dyna Pro contains prebiotics that support the ideal environment for good microbes thus aiding in proper digestion and utilization of food and supplements.
To order Dynamite products, please honor our system by contacting your individual Dynamite distributor who is trained to provide personalized assistance to address the unique needs of your animals.  Don't have a distributor? Call our customer service team at 800-697-7434.