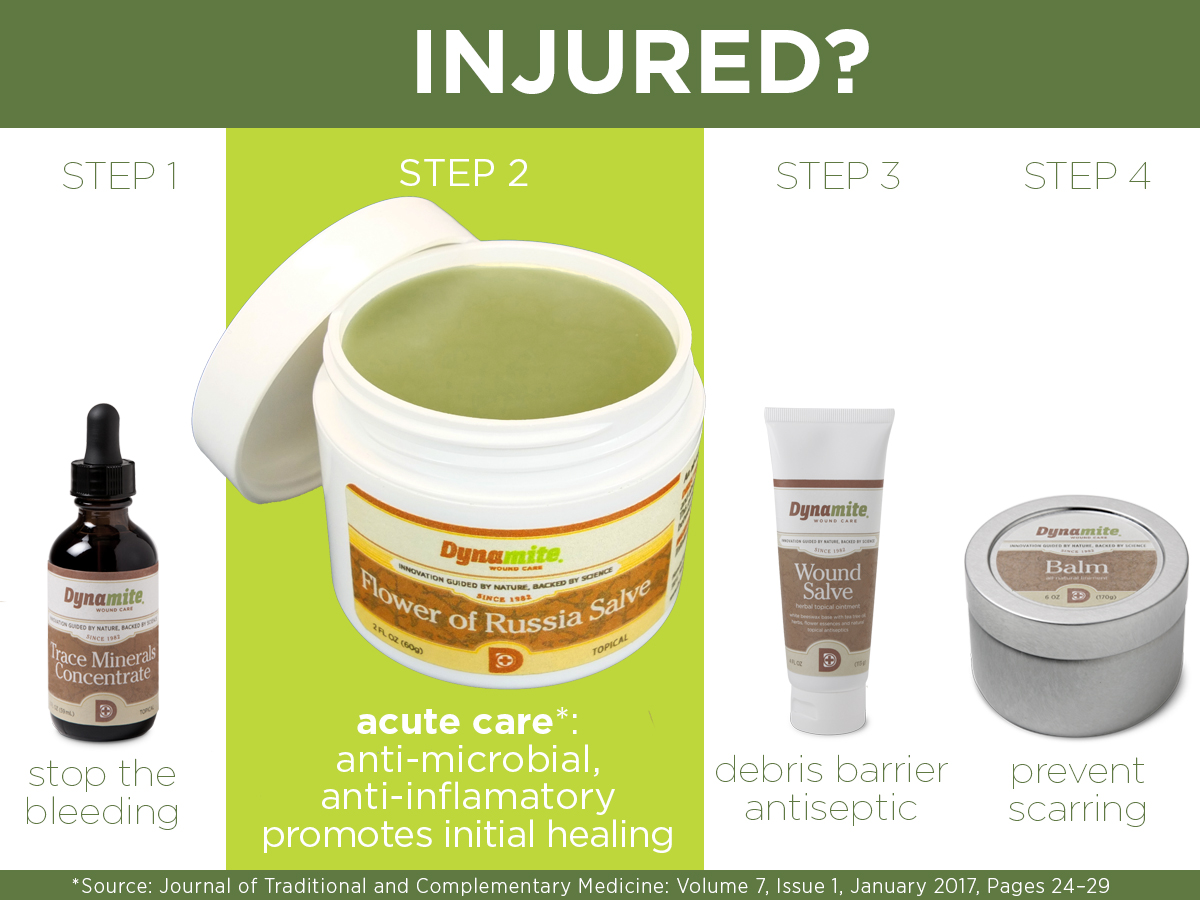 Flower of Russia Salve can be an asset during times of injury, especially when skin is cut, burned, or punctured. Wound healing is an essential and active process that involves four distinct stepsa:
Stop the Bleeding
Inflammation: The body sends blood to the wound which is essential for eliminating infectious micro-organisms, releasing of healing factors to the wounded area, and also facilitating the migration and division of cells for the proliferative phase. However, it is important that the inflammatory response time be short because prolonged inflammation can stop the healing process.
Proliferation: The body deposits a protein to the wounded area called collagen, which is a major part of connective tissue and has an important role in healing the wounds and repairing the tissue.
Tissue Repair:  The major component of collagen is hydroxyproline, which is the key indicator of collagen biosynthesis in the tissue and is made of pro and hydroxypro amino acids. Hydroxyproline, with its cyclic arrangement, provides structure and strength to the collagen and collagen gives strength to the tissue and helps in the re-epithelization process. This process seals the wound.
The finding in one study indicates that applying extracts obtained from the Russian Olive plant to the wounded area decreased inflammation and microbes while increasing the content of hydroxyproline in the tissue. In addition, another study shows that Russian Olive extracts had a significant effect in accelerating the wound healing process and reducing the inflammation and pain.
Using the scientific information above, it stands to reason that Russian Olive extracts should be applied immediately after a wound stops bleeding. Dynamite is not claiming that these studies were done using our Flower of Russia Salve. They were not. However, the main herbal extraction in Flower of Russia Salve is from the Russian Olive Plant and the salve has been used on many wounds over the course of a couple of years where it was very effective in the initial stages of wound healing. People have used Dynamite's Flower of Russia Salve on other skin issues with success as well. The results from scientific studies using extracts from Russian Olive, along with the responses from users of our salve, indicate a likeliness of the results being from Russian Olive phytochemicals contained in our salve.
Read the history of how Dynamite's Flower of Russia salve HERE.
a: Source: Journal of Traditional and Complementary Medicine: Volume 7, Issue 1, January 2017, Pages 24–29