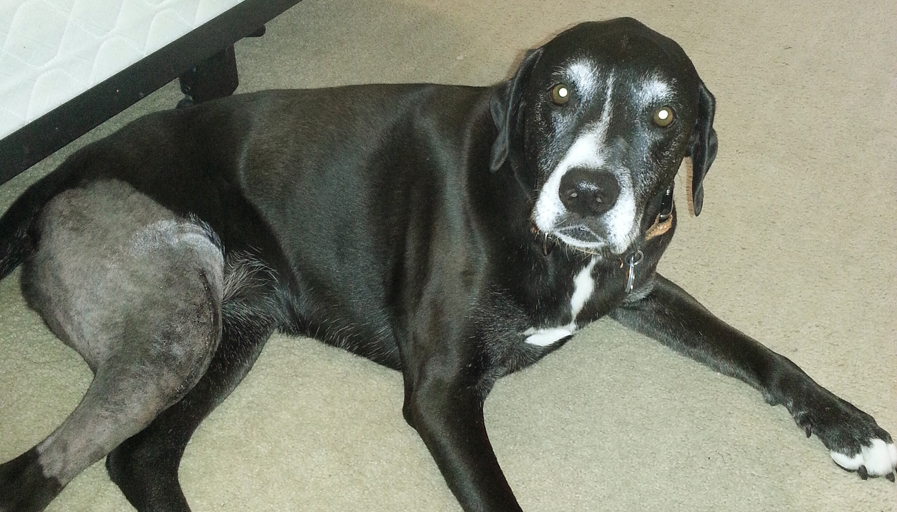 Angel is my 10-year-old black lab/pit mix. She tore her ACL the first part of September because she was playing with our new puppy. Before the surgery, the doctor told my husband that we were going to need to find a really good glucosamine supplement to have her on for the rest of her life, to which my husband laughed and said "No problem!", as he explained where I worked.
She had surgery on Sept 16 not to repair the ACL but to help the ACL heal itself correctly, called a lateral suture procedure. We brought her home on Sept 17.
On Sept 21, we removed her bandages for the first time. On Sept 30 she had her two-week check up and staple removal. She had originally 20 staples total but many of them had already worked themselves out because her wound had healed so well and so quickly (lots of Wound Salve). She probably could of had them removed at one week's time. The doctor said that unless we had concerns we did not need to bring her back for her two month check because she was doing much better than expected (thanks to the Dynamite and some TLC).
We have her on the Canine Foundation Program (Super Premium Dog Food, Canine TNT and Dyna Pro), Canine Free and Easy and the first week I gave her some extra MSM. We used Wound Salve on the wound until the staples came out and then switched to Balm. I did give her a little Tranquil the day I brought her home. So much had happened in those 24 hours that she was a little unnerved.
Today she is still on limited play because the healing process can take several months, but she has no problem jumping up on our bed. I feel bad because we have to stop her from playing just as a precaution. She is a little stiff after she has been laying down but after a few seconds her limp is gone. The doctor warned that she could have a little limp forever. All in all she is doing great and the doctor was amazed at how well she was doing. He was also impressed with the results of her pre-surgery tests and blood work. I guess they were concerned with her age and having her in surgery but once the tests came back they said she was in such good health there were no worries for surgery.
Katie Coffel
Dynamite Customer Service Team Member
If you have a Dynamite story you'd like to share with us, please send it to us here.
*The statements made on this page were given freely and are the sole opinions of the author. We always caution that one person's experience is not a guarantee of results. The statements have not been evaluated by the FDA and are not intended to diagnose, treat, cure, prevent or mitigate any disease. Dynamite Specialty Products takes a firm stance that our products always be used in accordance with the opinions and expertise of your trusted health care professional, doctor and/or veterinarian.
BACK TO CANINE TESTIMONIALS