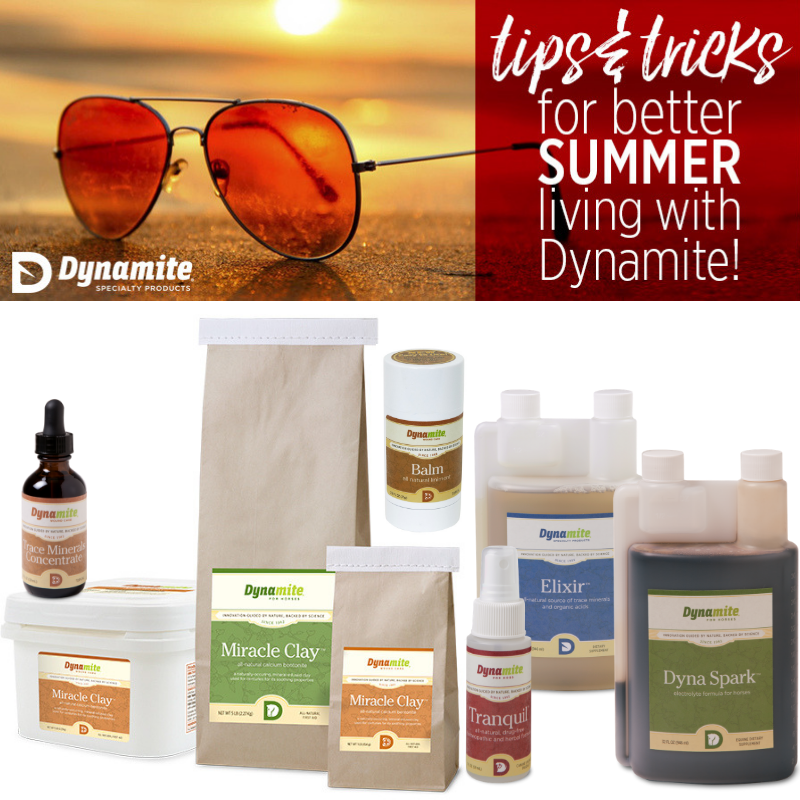 Sports & Electrolyte Drink
Elixir™ is awesome in juice! This great electrolyte drink can be made by mixing
a quality fruit juice, diluted at least 50/50 with water, with a little Elixir™ and adding a pinch of NTM Salt™. Electrolytes are essential for our health and for optimum brain function. Jim put an electrolyte formula together for his wife's grandmother who had severe dementia and was no longer speaking. After just a few sips of this, she started speaking in complete sentences. His feeling is that in nursing homes and retirement homes, the salt is restricted (and that is icky salt anyway) and electrolytes are severely compromised.
Less is More
Keep Dyna Spark™ at the ready for use at strenuous events, during hot months, and to use before transporting horses as well. Make sure they have access to plenty of good, clean water at all times. Less is more with this great electrolyte.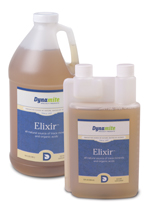 Sunburn Relief
Spray Release™, followed by Elixir™ or Super ACV™ on your sunburn. The tannic acid in the vinegar soothes skin dramatically, and irritated skin will certainly benefit from the colloidal minerals in the Elixir™. Save your old Relax™, Release™ and Tranquil™ bottles for this! If you really fried yourself, put Elixir™ in your bath, about a cup, and soak for a while. This Elixir bath is also very relaxing and calms hyper kids right down!
Vinegar Replacement
Use Elixir™ in place of vinegar in all your summer cooking; in oil and vinegar salad dressing, in potato salad, wherever! A great way to "sneak" extra minerals and electrolytes into your family.
Super ACV™ is an awesome marinade for steaks! Add a little onion and garlic powder to taste, and of course NTM Salt. Marinate in a resealable bag for desired time, then enjoy tender and flavorful meat.
Keep Moisturized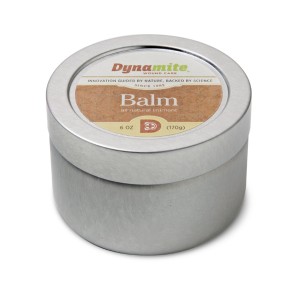 Dry summer hooves respond beautifully to a coat of Dynamite® Balm daily at first, then weekly. Anecdotal experience shows to help hoof growth when rubbed on the coronet band, too! And it is great on dry paw pads on your pooch, as well. Rubbing Balm along the underline of a horse who has irritation from biting flies not only keeps the flies off, but heals the flaky skin. Bonus: applying to your animals leaves softer hands for you!
Get Summer-Ready Feet
Balm™ helps people "hooves" too; achieve sandalworthy feet by rubbing the Balm on your heels nightly, put on some old socks, and you are good to go. For a super treatment for feet that go barefoot too much or are in boots all day, rub in the Balm especially on callouses, and then do a "sweat" by wrapping feet in plastic wrap before you put on those old socks. If you can, sleep in this attractive getup for a few nights in a row, reassuring your horrified bedmate that the end result will be more appealing feet!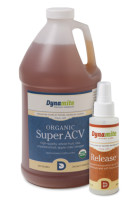 Buzz Off
For extra "zap" against biting flies and mosquitos, add a little Super ACV™ to the water when diluting your Dyna Shield™ for equine use. Add ¼ cup Super ACV™ to their feed daily as well, to increase the excretion of thiamine thru the skin – this B vitamin discourages bugs. Dyna Shield™ will also be the hit of your summer evening barbecues.
Keep Eyes Clear
Release™ sprayed in horses' fly-irritated eyes soothes them, and follow with a spritz of Solace™ too.
Breathe Easy
Sinuses bothering you from summer pollens? Put a few drops of Dynamite Tea Tree Oil in a pot of steaming water, make a tent with a towel, and breathe the vapors for a few minutes a couple of times a day. You can also add a few drops of Solace™ in your neti-pot.
Body Glow
The Golden Door Spa in Telluride gave their favorite "beauty recipe" using Vaseline: Put a tablespoon of coarse sea salt in 1/4 cup of Vaseline and use as a scrub for rough heels. NTM Salt™, the coarser animal version, would do the trick just great! Or, put the NTM Salt™ in cold pressed oil such as olive or almond oil, and use as a body scrub after your bath or shower, then rinse off in the shower and glow.
Clear Skin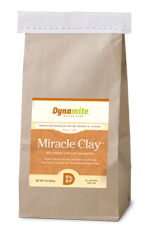 The Miracle Clay™ Mask is even better when you add a little Elixir™ or Super ACV™ to the paste. Better than a tight ponytail for firming up your face and smoothing it dramatically. Works great dabbed on zits, too, and is incredible for bug bites or stings of any kind.
Keep your engine running
Remember ZF 100™ is great in any engine oil: generators, ATV's and motorcycles, boats, lawnmowers, and of course all your cars and trucks.
At Ease
Keep Relax™ or Tranquil™ around for your dogs, for helping them deal with stressful summer gatherings as well as thunderstorms. Horses also benefit from Relax™ or Tranquil™ before stressful events such as farrier work, learning a new lesson, or trailering.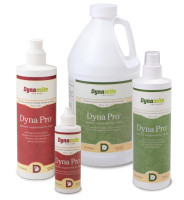 In case of emergency
When you head for the mountains, trails or events with your horses, be sure to pack the Dyna Pro™. Many a horse has been assisted out of a sudden colic far out in the hills or on the road at an event by this amazing product. Also remember to give it during times of extreme heat stress or stormy weather with barometric pressure drops, too. Relax™ is also a welcome assist in any emergency.
Keep Clean and Fresh
Keep horse water tanks from growing gunk so fast in hot weather by adding a little Catalyst Water™ solution to the cleaned and filled tank. Catalyst Water™ is also great for your spa or hot tub, add a cupful to the clean, nonchlorinated water and repeat as needed. No chemicals, just healthy, clear water!
First Aid
Flower of Russia Salve can be an asset during times of injury, especially when skin is cut, burned, or punctured. Wound healing is an essential and active process involves four distinct stepsa:
Stop the Bleeding
Inflammation: The body sends blood to the wound which is essential for eliminating infectious micro-organisms, releasing of healing factors to the wounded area, and also facilitating the migration and division of cells for the proliferative phase. However, it is important that the inflammatory response time be short because prolonged inflammation can stop the healing process.
Proliferation: The body deposits a protein to the wounded area called collagen, which is a major part of connective tissue and has an important role in healing the wounds and repairing the tissue.
Tissue Repair:  The major component of collagen is hydroxyproline, which is the key indicator of collagen biosynthesis in the tissue and is made of pro and hydroxypro amino acids. Hydroxyproline, with its cyclic arrangement, provides structure and strength to the collagen and collagen gives strength to the tissue and helps in the re-epithelization process. This process seals the wound.
Also consider Dynamite's Topical Aid Kit!