A Family's Worst Nightmare – Dog Attack
A few years ago we adopted a dog, Waylon, that we were hoping would fit in with our family and life. Things were really good with him; he was great with kids, got along with our other dogs, cats, chickens, goats and horses–perfectly! As time went on though, Waylon and one of our other dogs, Hank, started having little disagreements about who was top dog and then one day something snapped with Waylon and he attacked Hank.
The Attack
Waylon grabbed Hank's front left leg near the arm pit and bit down HARD and started thrashing around. Hank was severely injured and bleeding heavily. I was in the house when I heard the commotion. When I got outside the fight was over, thanks to my brother in law, but the damage was done. Hank was hiding under our truck with a steady stream of blood coming from his armpit area. I quickly grabbed him from under the truck and clamped down on the bleeding while my Husband grabbed a trauma dressing with a clotting agent to pack the wound with and stop the bleeding. I called the vet, who is located 75 miles away, and we loaded up and headed in. Hank was at this point in obvious shock and even passed out a couple times on our way to the vet but he made it.
The Healing Begins
Once to the vet, he was quickly put on fluids and evaluated. The vet said that they would give him a few hours to 'stabilize' but that they would need to do surgery as it appeared that most of the damage was under the skin; externally there was only a couple puncture holes. Later that evening, about 9:00, the vet called me to give me the update and prognosis. He said that that was the worst crushing injury he had ever seen from another dog! All of the tissue in and around the armpit and shoulder was literally mush, but thankfully the main blood vessels were intact!! After 4 days of hospital care Hank got to come home, very tender and week, drains in the leg and a lot of stitches. The vet warned that some of the muscle may still die and the outcome still in doubt about the leg and recovery.
As soon as he was home, I started using Release on all of the bruising along with Wound Salve. He was so sore and understandably a bit guarded to his leg being touched so I also gave him Relax which helped ease the nervousness. After a few days of being home, we pulled the drains (per the vet). At about 7 days after he came home I started to apply Balm to the incisions but was also still using Release and Wound Salve as the open wounds were still healing and the bruising was deep. At 10 days we removed the stitches. Each day the progress in his healing was remarkable and we were actually having to restrict his activity since we were still dealing with open wounds. I should note that Hank was also on and has been for quite a while Dynamite's Super Premium Dog Food, TNT and Dyna-Pro. I know without a doubt that prayer and all of these wonderful products helped save Hank and his leg. He made a full recovery without any tissue loss or nerve problems!!! The pictures show the difference from when he came home and 10 DAYS later… simply amazing!!!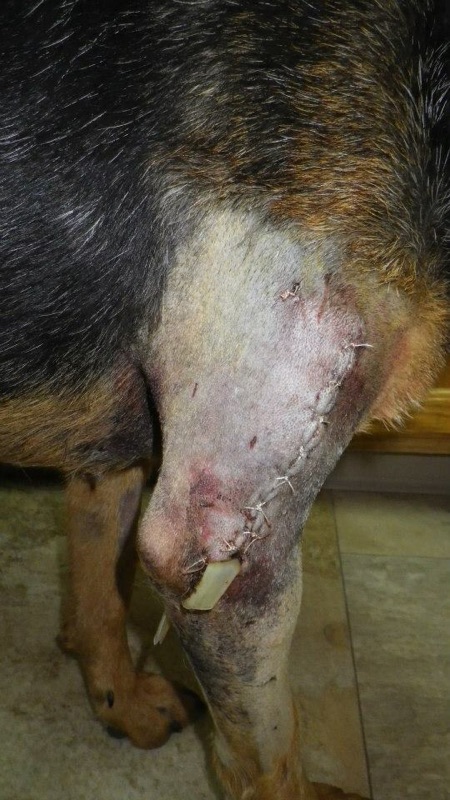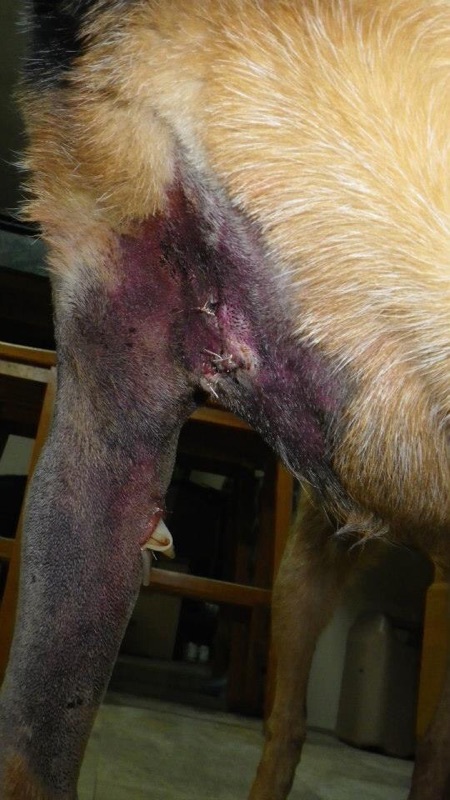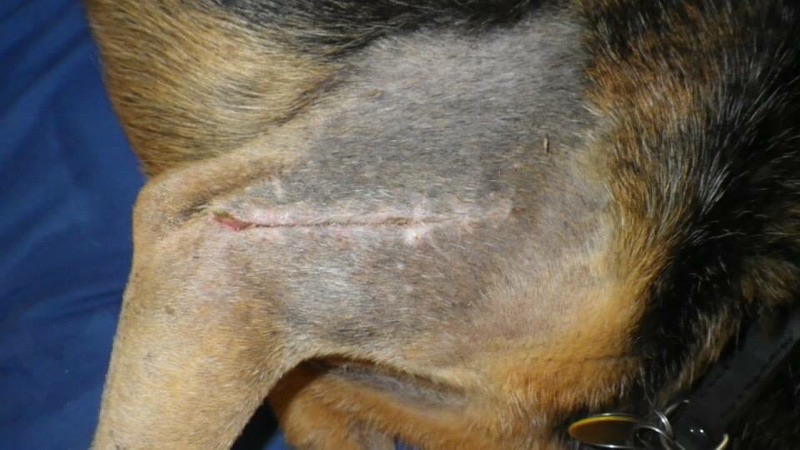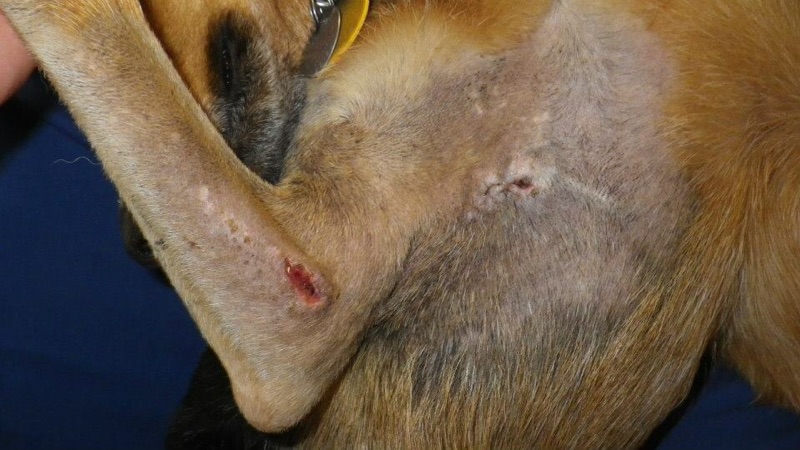 Other Stories Like This One…
Quality of Life Restored with Dynamite Super Premium Dog Food
What is Relax & How Do You Use it?
What is Canine TNT and How Does it Build Health?
If you have a Dynamite Story you'd like to share with us, please send it to us here.
*The statements made on this page were given freely and are the sole opinions of the author. We always caution that one person's experience is not a guarantee of results. The statements have not been evaluated by the FDA and are not intended to diagnose, treat, cure, prevent or mitigate any disease. Dynamite Specialty Products takes a firm stance that our products always be used in accordance with the opinions and expertise of your trusted health care professional, doctor and/or veterinarian.