Here is a success story about a cat named Gus.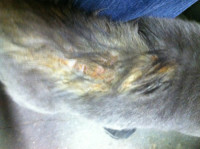 A few years ago we noticed a stray / feral cat coming into our garage at night to dine on our house cat's Dynamite Premium Feline Cat Food. As soon as he would see us, he would race away, never giving us the chance to even look at his face.
About a month ago, he decided to ask for our help. He walked up to us and presented himself with a case of mange (or some kind of skin infection) from his neck to his tail. The [infection] was oozing so I grabbed my mini spray bottle containing 50/50 TMC (Trace Minerals Concentrate) and distilled water and sprayed the affected area. I thought this might scare the cat, but he turned and licked the bottle after I sprayed the affected area. The skin with the mange immediately dried and turned black, and by the next day started peeling off. I used it on his food, as well (always look internally, right?) I used Wound Salve on the spots that were really raw as well.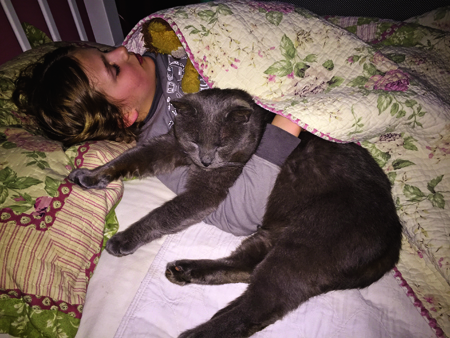 Decided to do a cleanse so [I] used Herbal Tonic, then switched to Catazymes and Purrformance. We just can not believe how fast he recovered and how beautiful his coat is. Needless to say, Gus is here to stay.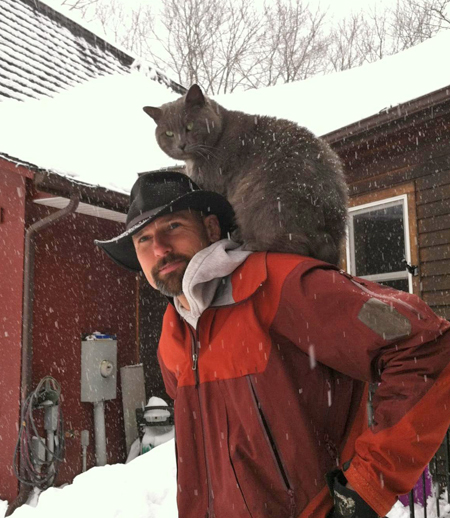 Scott L.
Dynamite Distributor, CT
If you have a Dynamite Story you'd like to share with us, please send it to us here.
*The statements made on this page were given freely and are the sole opinions of the author. We always caution that one person's experience is not a guarantee of results. The statements have not been evaluated by the FDA and are not intended to diagnose, treat, cure, prevent or mitigate any disease. Dynamite Specialty Products takes a firm stance that our products always be used in accordance with the opinions and expertise of your trusted health care professional, doctor and/or veterinarian.