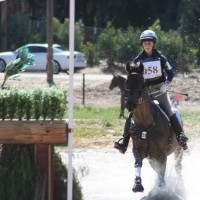 "Megan Traynham is a Dynamite kid with a Dynamite horse. Megan started her love for horses watching her Mom, Christine, work with them at an early age. It wasn't long before Meg could be found bouncing along on the back of a miniature horse through the timber in the backyard of the Traynham's Timber Ranch.
Time went on and Meg began to show her beloved Morgan's, soon to fall in love with the world of eventing. It was not long before Meg began being noticed as a very talented natural rider and it was then, during a conversation with Yves Sauvignon, that her Mom realized it was time to get Megan into a solid partnership. Yves introduced us to Kristi Nunnink and Lord Lombardi. It did not take long for all of us to know that this was going to be a great partnership. Lord Lombardi moved to the Timber Ranch and began his Dynamite program of TNT, Dyna Pro, Dyna Spark, Pre-Race Pak, and Super Stress.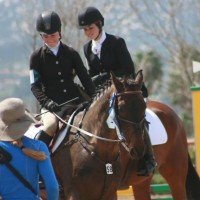 This team has been moving forward fast! Megan is currently trying out for The National Young Rider team. She has all 4 of the preliminary runs she needs to qualify before she heads to Weatherford, Texas for a one star (CCI*). The final preliminary will be held at Twin Rivers in Paso Robles, California. Megan has big dreams of someday having the honor of competing at the Olympics. This event gets her one step closer to the National Young Rider team. Good luck to Megan and Lord Lombardi as they reach for the stars, while using their Dynamite products to support both horse and rider to be the best athletes they can be!"
Christine Traynham
Dynamite Distributor, CA
Check out these videos of this Dynamite team:
If you have a Dynamite story you'd like to share with us, please send it to us here.
*The statements made on this page were given freely and are the sole opinions of the author. We always caution that one person's experience is not a guarantee of results. The statements have not been evaluated by the FDA and are not intended to diagnose, treat, cure, prevent or mitigate any disease. Dynamite Specialty Products takes a firm stance that our products always be used in accordance with the opinions and expertise of your trusted health care professional, doctor and/or veterinarian.