A Favorite Multi-Purpose Product

Balm contains over 70 minerals in colloidal form. It is an product that is collected from naturally-occurring deposits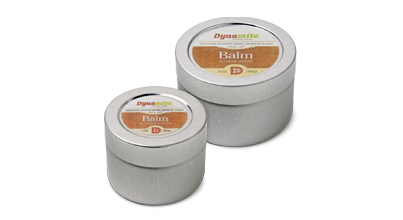 in the United States. It is then filtered, mixed with soothing olive oil, additional trace minerals, and anise oil before being packaged for your use. It has been successfully used on bruises, strains, burns, abrasions as well as scar tissue and calluses. Like so many old-fashioned topical products you grew up using, this one will uncover all sorts of applications when used over time.
How to Purchase
You have 3 options when purchasing Balm, depending on your needs:
3 ounce jar- ideal for household needs and/or first aid kits because it's small.
6 ounce jar – Ideal for barns and trailers, when you need a little more on hand.
2.5 ounce "stick" – Ideal for applications on hooves, feet, paws & more! Allows easy application without getting your fingers messy.
Click here to see buying options
Also Available in Dynamite's Natural Topical Aid Kit!
History

of Balm


For centuries, the naturally-occurring mineral deposits were scooped into pouches and used by Native Americans for all sorts of skin issues, abrasions, cracking, scarring, etc. When white settlers came across America, they discovered it and began using it as a treatment on their saddles to keep the leather soft and protected from the sun. They inadvertently discovered that when their saddles were treated with the balm, they had fewer issues of saddle sores and the sores healed more quickly. They quickly figured out that the substance was rubbing off the saddle and helping the sores!
Testimonials