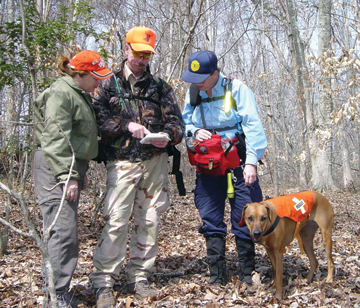 If there is one thing Dynamite distributor Kimberly W. knows, it's that preparation, training, and nutrition are vital components in her line of work.
Kim is the proud owner of four Rhodesian Ridgebacks all of whom have been trained as and are experienced search and rescue (SAR) K9s. Keno, her 13 1/2 year old retired K9 SAR dog has approximately 20 titles and certifications, ranging from agility, weight pulling, obedience, and lug coursing. Keno was certified annually with North American Police Work Dog Association until she was 13 and is highly proficient at tracking, trailing, area search, article search, light disaster, and advanced obedience. Kobe, from Keno's first litter has the most advanced training, including vehicle tracking, back tracking, scent transfer, and secondary scent. She is second in command under Keno and acts as a farmhand to Kim, as well. Tazz and Two-Way, from Keno's second litter, are specially trained in several of the aforementioned tasks as well as water and land recovery of human and animal remains.
With how active and how sharp these canines need to be daily, it's no wonder Kim has come to rely on Dynamite's products and their reputation of quality and nutritional effectiveness. "After researching hundreds of products I could not be happier with the products I get from Dynamite," she says. "I feed a modified raw diet, so sometimes [their food] is raw, sometimes cooked, sometimes dried, so Dyna Pro is very important to me." In addition, all of her animals use Herbal Tonic and Free & Easy as needed. The City of Chesapeake Emergency Response Team and local fire department are lucky to have incredible canine workers and a dedicated citizen in their area, committed to providing outstanding service at a moment's notice. We are happy to have them as part of our Dynamite family!
If you have a Dynamite Story you'd like to share with us, please send it to us here.
*The statements made on this page were given freely and are the sole opinions of the author. We always caution that one person's experience is not a guarantee of results. The statements have not been evaluated by the FDA and are not intended to diagnose, treat, cure, prevent or mitigate any disease. Dynamite Specialty Products takes a firm stance that our products always be used in accordance with the opinions and expertise of your trusted health care professional, doctor and/or veterinarian.