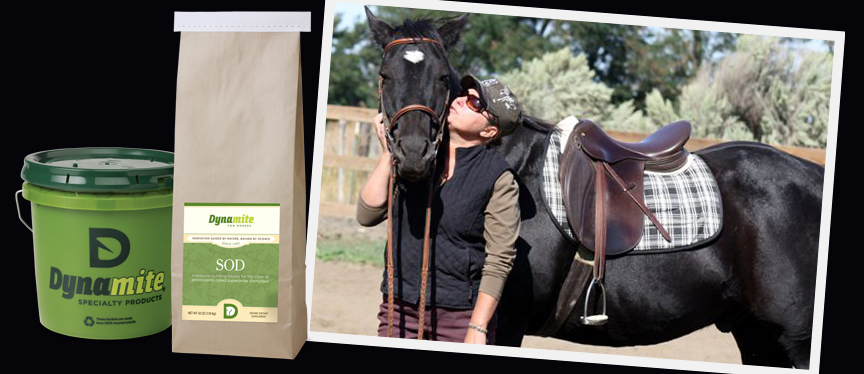 Copper deficiency in horses can be spotted by several signs with the most prominent being a sun-bleached (reddish in a dark horse) coat. Other signs are a bristly or frizzy coat, fading color, parasite issues, melanomas, or coats that are curled with a "fishhook" end.
Owners of black-skinned horses (which includes grays) will tell you that keeping their coats dark and shiny (especially in summer months) is difficult at best but closer to impossible. That is unless you are talking to an owner of a Dynamite horse. They will tell you that the easiest way to keep your dark horses looking their best is to make sure their mineral levels are balanced with one another and that copper is included in the mix.
Dynamite's SOD uses chelated copper–an important detail. Chelated copper is a form of copper that is either used by the body or excreted, therefore it is not going to build up in an animal's body in an unhealthy manner.
Copper and Pigment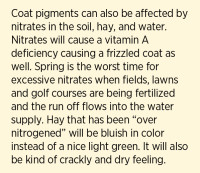 Copper, as a mineral, is important in skin and hair pigmentation. Research has shown that low copper levels result in an animal's coat fading and that darker animals actually needed more copper. This is because copper is needed for the production of pigment. Simplified, this means the darker the animal the more copper it needs.
Animals that are very copper deficient will even manifest with splotches of pink skin around the eyes, etc. It has long been a trade "secret" of show dog owners with Dobermans, Rottweilers, and other dark-coated dogs to feed our human SOD (a great source of chelated copper) for a time before a show to darken up coat and mouth pigments.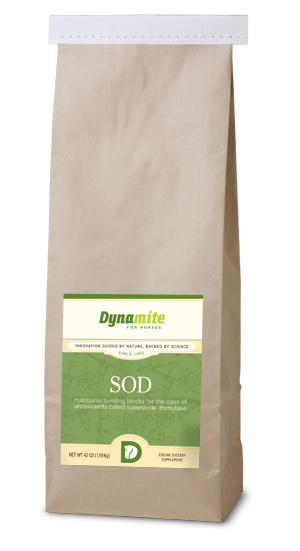 SOD and Parasite Control
If you look at the list of copper deficiency signs you may see a stark resemblance to a list you may of seen for signs for parasite infestation. Coincidence?
Research has shown that animals with copper deficiency are more prone to parasite infestation. Copper is one of the main trace minerals that powers the production of the immune-stimulating enzyme, superoxide dismutase, this supports the observation of many old-time cattlemen and horsemen who recognized parasite infested animals by the "fading" of the coat color intensity, a sign of copper deficiency.
Copper is also a major support nutrient for blood vessel strength and integrity, along with vitamin C. Does it follow that animals deficient in these nutrients might be more at risk for parasite-induced aneurysm? Which comes first, the deficient animal or the parasite damage to the tissues? From a holistic medicine approach "Why does the animal become infested?" is a more appropriate question than "How do we kill the worms?"
Dynamite's Florida distributors have found SOD really important in controlling the parasite problem, which is universal due to the climate in their state. A nice side benefit for these horses is the resulting intense coat colors—as dark as genetically possible.
Copper and Overall Health
If you live in an area of the country with high iron soil or water, SOD is an essential add-on to the full Equine Dynamite Foundation Program. High iron will suppress copper and often leads to a copper deficiency in the body. Florida and most of the east coast deals with an extreme copper deficiency and this situation is exacerbated by the high iron soil and water. Horses need copper in their diets to properly utilize iron and to develop healthy connective tissue.This is why a copper deficiency can also lead to anemia.
Copper is also important for horses with allergies, as it is able to lower the concentration of histamine in the body. Copper also helps to keep the central nervous system running correctly.
In adult horses a deficiency of copper in the diet may cause limb deformities, thinning of the bones, swelling of the joints, blood vessel weakness, connective tissue weakness, saggy skin, and a lowered immune system as copper is the main mineral for the body to produce T cells. It is also important for bone integrity, heart health, skin pigmentation and to prevent premature graying.
A Word of Caution About SOD
The typical horse owner will read this info and assume they just need to add SOD to whatever protocol their horse is on. This can actually cause more harm than good. This is because with all mineral in-take, balance with the other minerals is key. Dynamite SOD is designed to work in conjunction with the full Equine Foundation Program to ensure the copper levels don't get out of balance and cause unintended issues. So please seek the help of your Dynamite representative and learn the full protocol before deciding to add SOD. It may be possible that the basic program may be enough for your animal.
For more information about this, please read the article "Dynamite's Foundation Programs vs Just One" on this blog written by Chris Huppe, DAEP.