People who feed TNT, an all-in-one formula, to improve the lives of their
horses are seeing DYNAMITE results…

Submitted by Silver Director Tracie Seavey Audette: "Being involved in rehabilitative therapies for animals, TNT has proven itself over and over again as my "co-healer in a bag." For horses under stress from training, from an accident, or injury recovery, it has the best component parts to assist the "healer within".
In the day and age of chem trails, environmental assaults to the immune system, and everyday wear and tear, the body has so many more incoming signals to recognize. It is much easier for there to be a chink in the armor of good health and wellness. Providing TNT, even at a low dose, and adding in some additional Dynamite, to cover the basics, gives the body a myriad of building blocks with which to balance everything from blood sugars to the immune system. For athletic horses, the slow burning fats help keep the sugars from spiking and dropping while at work, and during the recuperation phase.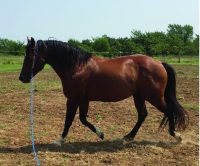 I have included a picture of my stud horse, Gangster Chex (aka to his trainers and those who love him as The Couch, The Green Grocer, and Chunky, among other things). He is a sturdy lad, being a reining-bred QH. He is about 14.1, tapes in at 1130 pounds and would wear a size 1 shoe if he ever had shoes on the fronts. He is a life long Dynamite horse (no vax, no chemicals) who has never had a bad day in his life nor has he missed a meal.
He is Fat, with a capital F. However, on closer examination, you can see that he is simply fat. He is not IR, nor diabetic. When he is working, he does trim down but then he muscles up even more. He still carries a bunch of weight over the top line and hip. He's cheeky, but not cresty, in the neck. I am careful to monitor this simply because he has the body type that could predispose him to having sugar issues.
His training mix is Dyna Pro, TNT, some extra HES, and a mix of Easy Balance, OxE Mega, and Hiscorbadyne. I send this to the trainers with all the ones that leave home. I have never had a trainer refuse to feed the supplements daily because I keep it simple. It is also one of the questions I ask before I choose the trainer. If they can't do it. It's a deal breaker."
---
Paradoc's Tivio, aka "Tucker", and Dynamite Silver Director Judi MacDonald of Maple Valley, WA and Prescott, AZ, won both go rounds of the Dixie Challenge (2010) in Hurricane, Utah.  Barrel racers in the northwest already know the 13-year-old, 15.1-hand buckskin as this win put him over 100K in lifetime earnings.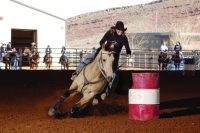 Just a few  of Judi and Tucker's accomplishments include two time Columbia River Circuit Qualifier, Northwest 5D Trailer winner for two consecutive years, and Brand Top 20 Shoot Out Qualifier.
"The Dynamite products Tucker gets every day are: PGR, TNT, Free Choice Minerals and MSM. He gets Dyna Pro and Miracle Clay every few weeks as needed. He has a mix of timothy and grass hay with a handful of alfalfa mixed in three times a day. He has been the best barrel horse I have ever had. He loves his job and gives 110 percent every time. He will be with me forever. He is a true Dynamite horse and by the way, he is barefoot, too!"
---
Submitted by Dynamite Silver Director Terri Olson: "This is a picture of my 4th generation Dynamite Arabian gelding, SA Khompadre,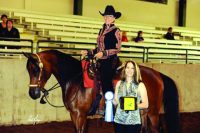 aka Hemi. He has been raised on all of the Free Choice Minerals, TNT, HES, and Dyna Pro. I feed virtually no grain, unless he gets a handful of PGR once in a while. He gets 1 cup of soaked grass pellets to mix his supplements into. I boost his immune system before and periodically throughout the show season with SOD, and feed a ball of activated Miracle Clay, in a h andful of either PGR or HES, to keep him from getting ulcers while we travel. Thank you Judy Sinner for letting me "borrow" VF Summer Love aka Brandy (Hemi's granddam) to be my foundation  mare, and to Dynamite for the products to keep these generations of awesome horses so healthy!"
---
Submitted by Dynamite Silver Director Candi Johnson, LMT: "My 24-year-old rescue miniature donkey FFOM Molly has not had even one estrus cycle in the 8.5 years I've owned her. Molly has some health challenges, including COPD (heaves), missing teeth and very likely the beginnings of Cushing's Syndrome (though not "officially" diagnosed). After being on the TNT for about six weeks, Molly came out of her stall frisking and dancing around, then mounted one of the other jennets! I've NEVER seen breeding behavior from her. Of course I wouldn't breed Molly, but the fact that she was having a hormone rush of any kind is encouraging. Her weight is more consistent as well."
---
Submitted by Rachel Bush: "I can't tell you how much I love the TNT! My mare, what can I say—she has really settled and has just become such a pleasure. She was always so flighty. I haven't been on her back riding her for nine months. I have been exercising her in the round pen but not riding her. Well I got the chance to get on her and ride her last week. It was like she took a day or two off not NINE MONTHS! She was doing lead changes and everything. She felt so solid that it was hard not to do too much with her. She would have jumped a full course and not missed a lead if I had asked her to. Now that's Dynamite!"
---
Submitted by Dynamite Gold Director Dr. Regan Golob: "This is my 2 year old filly Our Clementine (owned in partnership) winning last fall at Emerald Downs. She gets daily TNT and Dyna Pro, and Super Stress for three days before each race."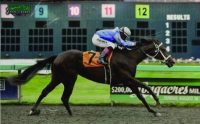 ---