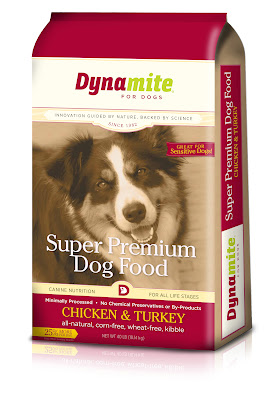 Super Premium Dog Food Is Getting a Bag Makeover
Our new Super Premium dog food started out in a classic white bag. Unfortunately, this bag was just not strong enough. The colder weather this winter made the bags prone to splits and tears.
To remedy this, our bag manufacturer was able to track down a stronger stock bag that contains the one-way air valve to help maintain the freshness. This temporary bag will be used until our new bags arrive (which is good because the new bag is an obnoxious silver color. Just consider it a little "bling" for your garage.)
Coming this summer the Super Premium dog food will be in a fully printed bag. It will provide the superior strength of the silver bag but will be printed with Dynamite graphics.