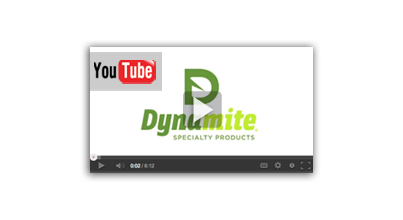 Did you know that we have over 15 interactive YouTube videos showcasing Dynamite products? Videos range from two to six minutes and feature products, applications, tips and recommendations. We have videos covering all our product lines including:
Human
Canine
Equine
And much, much more!
YouTube makes it easy to share these videos with your customers. You can even add a customized message when you send them via email or on your social media site. Be sure to include your replicated website URL for when they order. To share the video follow these easy steps:
1. Click on the video you want to share within YouTube
2. Click the share tab below the video.
3. Choose which social media site you want to post it on or click email to send to a specific person (this requires signing in). You may also copy and paste the video URL to use on a post.
Capitalize on Dynamite YouTube videos to share knowledge, expand your network, build your credibility and grow your business.
Find all Dynamite Specialty Products YouTube videos by clicking here.