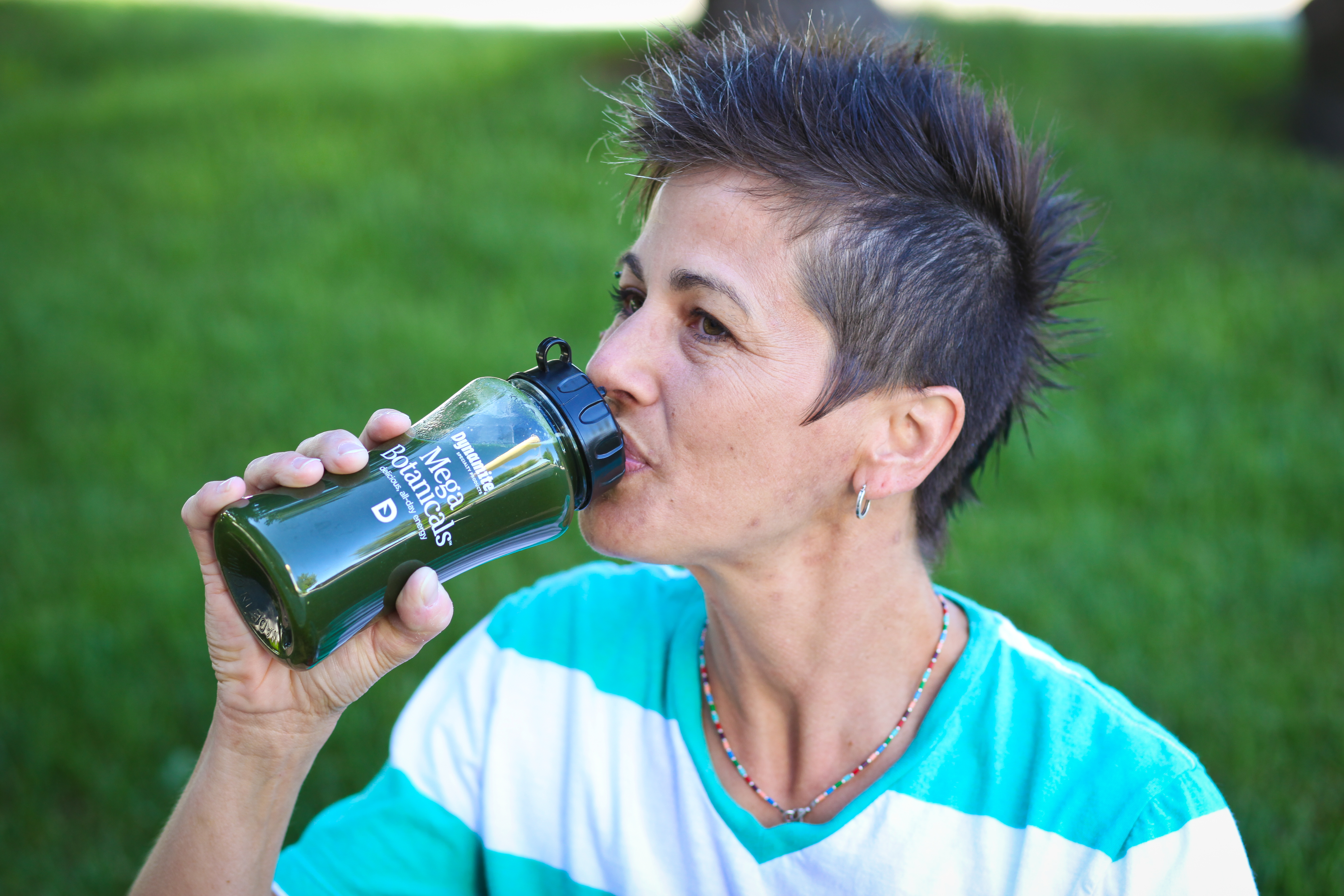 Counts as a Fruit on the 180™ Protocol
My husband has tried many 'green' drinks…and all were gross tasting, but all assured us we were getting 'the best nutrition possible.' When Mega Botanicals came out we bought some. I was very impressed with the taste…yummy! Also, knowing the great nutrition I am getting in Dynamite products I know that I really am getting the best nutrition possible. The plus side for me is that I do not always have time to stop and eat a fruit, and since this counts as a fruit on the 180 plan, at only 36 calories, it is a win-win situation. I also appreciate that they are already measured out and pre-packaged so I do not have to search for a container to put it in, I can just throw it in my purse and grab it later and mix it up!
Rachel D., Distributor, Kansas
A Great-tasting Green Drink!
After trying numerous green drinks, like barley grass powder which was hard to keep down, I am so excited to have found a great tasting, refreshing, healthy pick-me-up drink that helps with so much more than just alkalizing! Thank you Dynamite–now spreading the word to all friends and family!
Nina B., Distributor, Wisconsin
A Mega Botanicals Fan for Life!
I was doing really well on the 180. Lost 55 pounds over the past year–but I was really struggling with the last 10 pounds. Part of this was related to having carried this 'original' weight for decades. I knew it would take time to come off. I went into lock-in a few weeks ago, resigned to come back to the 180 in a few months to tackle the remaining weight loss. About the same time, I started the Mega Botanicals daily. A few days into this, I awoke sick. I worked through most of my day, came home, chugged the Mega Botanicals, went to bed and woke feeling 100%. I was amazed as my colleagues had assured me the flu would last 2 weeks.
After that day, I started replacing my morning cup of coffee with a hot cup of Mega Botanicals. Since then I have consistently lost 1-2 pounds a week without being on the 180 protocol. This morning I am within 1 pound of my goal! This stuff is amazing! I feel focused all day with no cravings or hunger…just a healthy satisfied sensation. I will drink Mega Botanicals every day for the rest of my life.
Jennifer J. M.D., Distributor, New Hampshire
Mega Botanicals is a Staple for Us!
We have been a Dynamite family for almost 10 (gasp!) years now. My husband and I completed the 180 program early in 2011 in preparation for a trip to Hawaii. The most beneficial result was eliminating refined sugar and artificial sweeteners from our diet, and realizing how good one feels when eating real food!
Since then, we've adopted a MUCH healthier lifestyle, which now includes the Mega Botanicals. When we first heard this product was coming out, we were so excited!  Here's a drink, filled with so much "goodness" it hardly fits on the label.
We lovingly refer to Mega Botanicals as our "Pond Water." With the Dynamite shaker and our Mega Botanicals, it's a great conversation starter…which of course leads to rave reviews of Dynamite as a company and eventually comes back around to the "pond water" in our hands.
The feeling we get from our Mega Botanicals—a natural energy boost, and reduced snack cravings in the afternoons—has made this YUMMY drink a daily staple in our house. Mega Botanicals is our tasty "pond water" energy drink which costs less and has more benefits than the others out there. (Those popular energy drinks of today have always scared me…) Even our kids (now 14 and 12) love it!!
I'm so excited for my first Auto-shipment to arrive so I can share!!  This product is such an easy introduction to Dynamite….I sense it will be a big hit – it already is for us!
Jennifer O., Distributor, Washington
*If you have a Mega Botanicals story you'd like to share with us [or ANY Dynamite story for that matter!] please follow
this link.
Thank you!
The statements made on this page were given freely and are the sole opinions of the author. We always caution that one person's experience is not a guarantee of results. The statements have not been evaluated by the FDA and are not intended to diagnose, treat, cure, prevent or mitigate any disease. Dynamite Specialty Products takes a firm stance that our products always be used in accordance with the opinions and expertise of your trusted health care professional, doctor and/or veterinarian.