Make no mistake, cats are carnivores. They love and need meat for its nutrient content, protein fat and amino acids. They may nibble at your dog's tasty, meat-rich food but beware; dog food will not meet their unique, nutritional needs and may contain too much carbohydrate for them to properly digest. Improving the life of your cat starts with knowing about balanced feline foundational nutrition. Proper nutrition will ensure that your cat lives a long, healthy life. Maximizing the number of quality years with your pet is the greatest gift of good nutrition.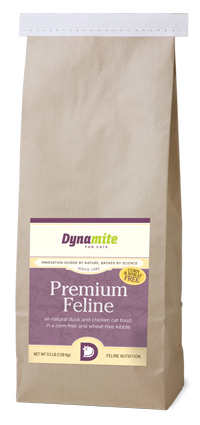 Feed your cat Dynamite Premium Feline Cat Food and they will get a great tasting meal packed with the best quality ingredients for foundational nutrition. This dry, kibble formula is duck and chicken based; is corn, wheat, and by-product free; and has no artificial additives. We use only natural antioxidants such as mixed tocopherols and we ensure all of our ingredients are also preserved naturally. This ensures that the product is 100% free from harmful, chemical preservatives such as Ethoxyquin, BHA and BHT.
Premium Feline contains viable prebiotics and probiotics for optimal digestion and nutrient assimilation. We've added cartilage to support joint health throughout the life of your purring companion. In addition, Premium Feline contains an optimal omega fatty acids ratio which is imperative for skin and coat health, normal growth from kitten to adult, as well as the absorption of fat soluble vitamins.
Just like our popular Super Premium Dog Food, Premium Feline is made with 100% USDA-inspected ingredients and adheres to Dynamite's strict quality standards. As always, Dynamite's cat food only contains ingredients that are sourced and made within the United States.
Premium Feline is one part of the Dynamite Feline Foundation Program. To ensure your cat is getting balanced nutrition we recommend top-dressing their food with Catazymes™ for extra enzymes and amino acids and Purrformance™ for additional vitamins and minerals.
To order Dynamite products, please honor our system by contacting your individual Dynamite distributor who is trained to provide personalized assistance to address the unique needs of your animals. Don't have a distributor? Call our customer service team at 800-697-7434.