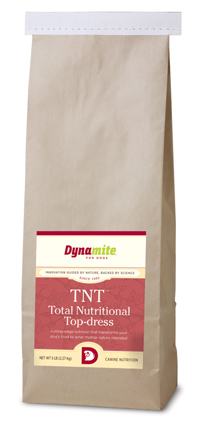 One of Dynamite's best-selling canine foundation products, Canine TNT (Total Nutritional Top-dress), provides all-in-one nutritional support for optimal canine health. Dogs love the taste and owners rave about the results. See links to several testimonials at the end of this post. Canine TNT is an amazing all-in-one, easy-to-give supplement formulated with a synergistic combination of ingredients, which together, support a healthy digestion system, immune system, coat health, and overall vitality.
Ingredients*
• Showdown®—Dynamite's foundational canine supplement – a balanced formula of bioavailable vitamins  and minerals, enzymes, cofactors and other vital nutrients
• Free and Easy™— a unique blend of targeted nutrients, aloe, Ester-C®**, glucosamine, chondroitin, and associated catalyst elements for ligament, cartilage and connective tissue support
• SOD™—targeted chelated minerals that assist the immune system to build, repair and stabilize itself
• Izmine™—a carbon-based, mineral food containing more than 60 naturally occurring minerals, enzymes, electrolytes, and bionutrients. Carbon is a known toxin-binder.
• Clay—Calcium Bentonite, a naturally occurring, mineral-infused clay used for centuries for its detoxifying and soothing properties
• Kelp—rich in iodine, trace minerals and chlorophyll
• Raw chia seed—An ancient 'super food' – provides a complete source of protein, B vitamins, Omega 3, 6 and 9 fatty acids, and fiber. It is also an excellent source of iron, calcium, magnesium, phosphorus, potassium, copper and zinc, all in an easily digestible form.
• Human grade medicinal mushroom blend—supports immune system health at many levels via numerous modalities.
• Yeast Cell Wall Extract—Supports gastrointestinal (GI) health and has been shown to improve the breakdown and assimilation of food, increasing nutrition absorption.
• Ground sprouted barley— a raw, living, alkalizing food with active food enzymes, rich in vitamins and readily absorbable minerals.
• Yucca (saponins) may reduce inflammation associated with normal activities and is proven effective to reduce urine burn on your lawn
*See full ingredient list under Canine TNT Supplement Facts on our website.
**Ester C® is a registered trademark of The Ester C Company.
Transforming the dry powder into delicious gravy is a snap. Simply mix in warm water, stir, wait a minute, and pour over your dog's high quality kibble or balanced raw diet. Canine TNT along with Dynamite's Super Premium Dog Food or a balanced raw diet and Dyna Pro make up the recommended canine foundation program.
For a short and informative video on Canine TNT click here.
Over the years we have learned that dog owners who top-dressed their animal's meals with unprocessed, balanced supplements experience fewer allergies, joint problems, digestive upset, and other issues. Additionally, just as with humans, it is believed that dogs who regularly consume a natural balance of viable nutrients have more longevity–meaning you get more years with your pal.
Canine TNT Testimonials
A Pug's Recovery With Dynamite Products

Olivia's Product Review of Canine TNT
Canine TNT to the Rescue of Lana's Itching
To order Dynamite products, please honor our system by contacting your individual Dynamite distributor who is trained to provide personalized assistance to address the unique needs of your animals.  Don't have a distributor? Call our customer service team at 800-697-7434.