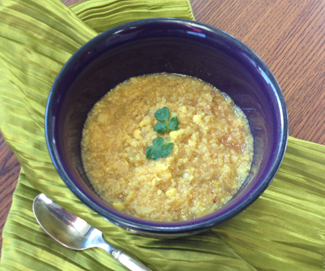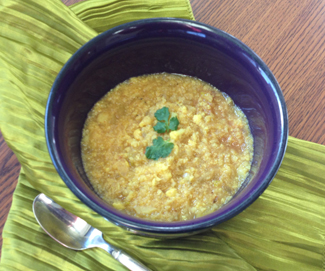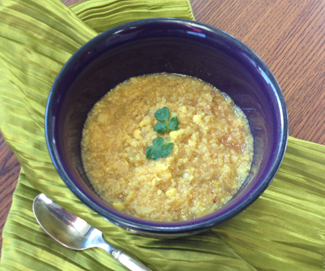 180 Protocol Approved Recipe
Pick Your Poison 2013  |  Submitted by Carissa D
1 small onion, chopped fine
1 garlic clove, minced
2 celery stalks, chopped
2 teaspoons curry powder
2 teaspoons harissa powder
1 large Granny Smith apple
4 cups cauliflower flowerets and stems, chopped (about 1 medium head)
3 cups chicken broth
1 cup water
NTM Salt and pepper
½ lemon, juiced
1 tablespoon finely grated lemon zest
Cilantro
In a 3½- to 4-quart saucepan cook onion, garlic, celery, curry and harissa powder in ½ cup of chicken broth over moderately low heat, stirring until vegetables are softened, about 8-10 minutes.
Peel and core apple. Coarsely chop apple and add to curry/harissa mixture. Add cauliflower, broth, water, ½ teaspoon of NTM salt and pepper. Cover and simmer until cauliflower is very tender, about 15 to 20 minutes.
In a blender or food processor, purée soup in batches until very smooth. Transfer puréed soup to another saucepan. Stir in lemon juice and zest and adjust seasoning if needed. Heat over moderate heat until hot. Ladle into bowls and garnish with chopped cilantro. Serve immediately.