"Mineral balance is perhaps even more critical than vitamin balance in a horse's diet. There is a complex interaction between many minerals; even a slight excess of one mineral in a diet can mean another mineral may not be absorbed. Trace minerals are a catalyst to help break major minerals down into a form that can be utilized.

In nature each "weed" has a trace mineral associated with it, so if a particular mineral is needed the horse will often eat the weed if it is non-toxic. Also, if the soil needs a particular mineral a certain weed will grow there to help provide that mineral. Soils that are or have been used to grow crops are depleted of trace minerals, so the grains grown on these soils and fed to horses are depleted. Additional mineral supplementation becomes extremely important.

Horses will naturally select from free-choice minerals as long as they are not too sick to sense their needs (perhaps through recognition of the energetic frequency of the minerals.) Conventional nutrition research reports that no species can accurately select free-choice minerals. However, upon observation it becomes apparent that the seasonal variations in mineral and vitamin consumption are significant."

Above is an excerpt from an article entitled, Holistic Equine Nutrition written by Dr. Joyce Harman, of Harmany Equine Clinic, based in Virginia. 
When offering your horse Free Choice Minerals, including 1 to 1 Free Choice™, 2 to 1 Free Choice™, Izmine™ and NTM Salt™,  it is important to begin slowly. Start the process by offering your horse about a cup of each mineral in separate feeders on the first day, and gradually increase daily. This process allows the horse to adjust to the availability of the minerals and ration its own cravings. After a few weeks, allow the horse to feed completely in a free choice manner.
Times of stress or injury, hard work, parasite challenge, onset of cold weather, barometric drops, growth spurts and more will trigger consumption of 1 to 1 and 2 to 1 Free Choice. The horses might ignore them for months, then suddenly will empty the feeder. Once they are balanced, they will tend to just take a little once in a while. Until they are balanced, they may empty the feeder daily.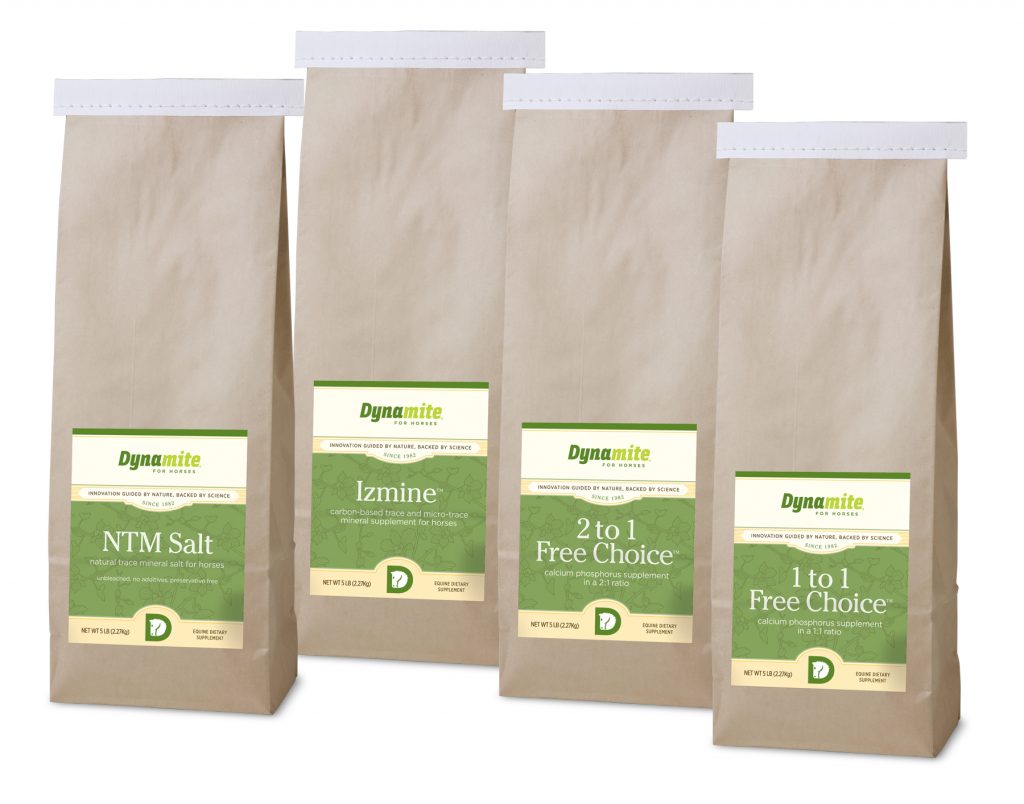 and 2 to 1 Free Choice were designed to work together to provide commonly deficient elements necessary for proper development of bone, ligaments, tendons, connective tissues and milk production in horses and other livestock.
1 to 1 Free Choice provides a 1:1 ration of calcium and phosphorus, generally needed in phosphorus deficient areas, or when alfalfa is mainly fed.
2 to 1 Free Choice provides a 2:1 ration of calcium and phosphorus, generally needed in calcium deficient areas, or when grass hay is fed.
It is important to always give your animal access to both 1 to 1 Free Choice and 2 to 1 Free Choice. Your animal will know instinctively how much of each Free Choice he needs each day. Mineral needs will change daily, so provide adequate amounts of both for your horse.
Izmine is mined from a prehistoric, organic deposit of kelp, crustaceans, and other marine flora and fauna. It is naturally chelated and contains more than 70 naturally-occurring micro-trace minerals, enzymes, electrolytes and bio-nutrients. Because Izmine is carbon-based, it acts as a natural detoxifier.
NTM Salt is a 100 percent natural deposit from a prehistoric sea bed. It is better than sea salt, because it has not been affected by pollution. No artificial ingredients or flow improvers are added.
All of the Free Choice Minerals are designed to assist in balancing the minerals and trace minerals in the ration and  are intended to be offered free choice to horses already being supplemented with either Dynamite®, Dynamite Plus™, or TNT™. It is important that 1 to 1 and 2 to 1 not be force fed because only the animal, through its instinct, will know how much to eat. There are reports of depleted horses consuming as much as 75 pounds of 2 to 1 in a few months, before becoming balanced and voluntarily reducing consumption to a few ounces per day! There are other horses who will never touch the product, and many who seem to cycle off and on depending on estrus, season, work load, growth rate, parasite load, etc.