What do these two questions have in common: "My horses used to eat a lot of the Free Choice 1:1, but now they don't eat it at all. Did the
product change? What is wrong?" AND "My horses never used to eat the Free Choices, now they have eaten a whole bucket in just a few weeks.
What's wrong?" The answer is the same: That is perfect! They are doing exactly what nature is telling them to do! We have found wide variations in the rate of consumption of the 1 to 1 and 2 to 1 Free Choice. Times of stress or injury, hard work, parasite challenge, onset of cold weather, barometric drops, growth spurts and more will trigger consumption of these products. The horses might ignore them for months, then suddenly will empty the feeder. Once they are balanced, they will tend to just take a little once in a while. Until they are balanced, they may empty the feeder daily.
It is important to not "ration" the products when you start horses on them. Start with 8 ounces per horse per day, and if the feeder is ever empty, use more, until there is always a little left in there. Think of the horse as a leaky bucket. If the bucket has a hole in the bottom and you just trickle water in, you will never get it to fill up. If you turn on the hose full blast, you will fill the bucket and just then a trickle will keep it filled.
Regarding the philosophy of free choice mineral supplements, authors Philip A. Wheeler, PhD., and Ronald B. Ward state, in The Non-Toxic Farming
Handbook, "Free choicing of minerals and additives is a controversial concept. It is said to be impossible by some experts for an animal to choose, free choice, what it needs. Why then, do animals chew bark, eat dirt, drink from corral urine pools, and crib? Why do they stop that activity when given specific
supplements? There is a strong case for free choicing, and a producer should explore it for himself." We have chosen to restrict our horses to stalls, paddocks or pastures with limited forage options, where in nature they would roam many square miles in search of natural clays, mineral deposits and herbs/plants.
A study was done by Dr. William Tyznik of Ohio State University, whereby he put out four options for horses: Plain salt, trace mineral salt, limestone (a calcium source) and phosphorus. These were widely spaced out in the living area and rearranged weekly, and dependent upon ration changes during the week from high to low calcium, the horses would eat the corresponding supplement to maintain blood and tissue balance.
Studies show silica can actually transmute into calcium, if needed. The atomic weight of silica (28) plus the atomic weight of carbon (12) equals the atomic weight of calcium (40). Also interesting, is the observation by Harvey Lisle in The Enlivened Rock Pow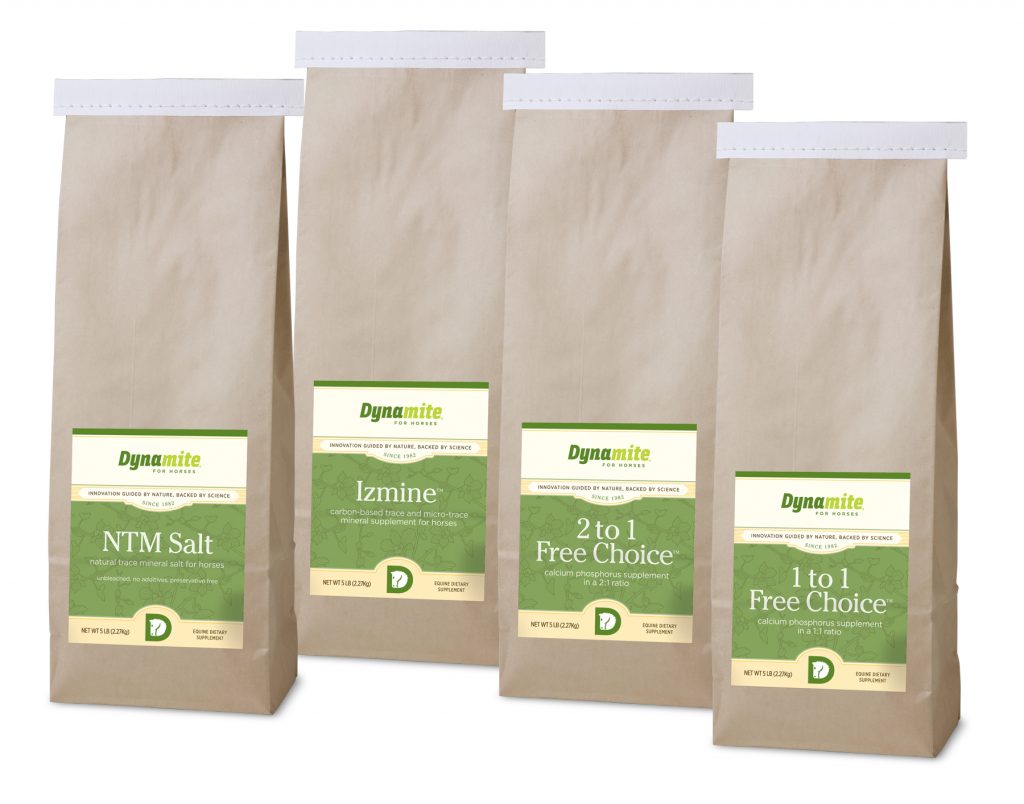 ders that transmutation is not much recognized by science and yet happens continuously in the plant, animal, mineral and human kingdoms. He says, "Transmutation is not hard to understand if you consider the elements not so much material, as spiritual with strong enzymatic forces." Biological Transmutations by Kervran, a French scientist, is the classic work on the subject and is available from Acres USA (800-355-5313 or www.acresusa.com) if you would like to research more fully.
Here are some comments from Jim Zamzow, in response to questions about the 1 to 1 and 2 to 1 Free Choice Minerals:
"First of all, remember that 1 to 1 and 2 to 1 are designed to assist in balancing the calcium and phosphorus in the ration. They are not complete
supplements by themselves, they are intended to be offered free choice to horses already being supplemented with either Dynamite®, Dynamite
Plus™, TNT™ or V/MSalt Mix™. It is important that 1 to 1 and 2 to 1 not be force fed because only the animal, through its instinct, will know
how much to eat. There are reports of depleted brood mares consuming as much as 75# of 2 to 1 in a couple of months, before becoming balanced and voluntarily reducing consumption to a couple of ounces per day. There are other horses who will never touch the product, and many who seem to cycle off and on depending on estrus, season, work load, growth rate, parasite load, etc.
Q:If 1 to 1 is intended to be a phosphorus supplement, why does it contain calcium? I know people who feed just plain phosphorus, which is much cheaper.
A: Phosphorus is very readily absorbed, and it is easy to create an imbalance toward the side of phosphorus, especially if you are force feeding a phosphorus supplement. A phosphorus excess can also be created by feeding high levels of grain and by feeding bran. Remember that the ideal ratio of calcium:phosphorus (Ca:P) in the total diet is 1.5 to 1 for a young horse: in other words, one and one half parts calcium to one part phosphorus. In addition to the ratio, the quantity of each element also needs to be considered. As long as the amount of phosphorus in the diet is adequate, the horse
can handle the calcium level being higher. Also, 1 to 1 is recommended when the diet contains alfalfa hay, which is often at a Ca:P ration of 5:1 or even higher, but this calcium is not in a really usable form for the horse. The body has a self-limiting mechanism to keep the blood pH balanced, and when there is too much calcium circulating in the bloodstream, the body kicks it out via the organs of elimination (Some studies suggest this is how kidney stones are formed) before the calcium has a chance to become bone. So we add some chelated calcium to the 1 to 1 to insure adequate available calcium.
As for the price of 1 to 1 and 2 to 1, people need to consider the long term health and soundness of the animal that they are feeding. We add nutrients like chelated copper and zinc which are necessary for proper bone and tendon development, and Ester-C®* calcium ascorbate to enhance
collagen formation. A study done at the University of Kentucky showed that the addition of yeast culture to the ration increased the absorption of phosphorus. Have your customers study the booklet Minerals: Right on Target and the information on Ester-C®*, and let them
decide if these nutrients have merit in their feeding program. Excellence costs a little more, and Dynamite does not apologize for the cost of that quality. Your
customers will readily pay the difference if they are properly educated. In addition, we offer them the option of becoming a Distributor to pay wholesale or even get the product free by selling to their circle of acquaintances.
Q:I noticed calcium carbonate in the list of ingredients, which I understand to be inorganic rather than chelated. I also noticed the term "proteinate" – how is this different from a "chelate"?
A:In your first question regarding calcium carbonate— please be aware there is a distinct difference between how humans and animals deal with this mineral. For example, calcium carbonate is an alkali mineral which has a neutralizing effect on hydrochloric and other acids. In humans, this can prove disastrous, especially in geriatric cases where there is usually not enough stomach acid to start with. Yet many medical practitioners recommend
commercial antacids as a calcium source! On the other hand, Herbivore animals, horses and especially ruminants, will seek out lime and other mineral deposits and eat them readily to balance their body pH. Mono- (meaning one) and di- (meaning two) calcium phosphates are commercial defluorinated phosphates and while like other inorganics could be harmful to humans, provide reasonably available sources for these animals.
The term "amino acid complex" relates to the tying of amino acids to a mineral that cannot be truly chelated because of their chemical makeup, like phosphorus or potassium. The term "proteinate" refers to a simple mix of amino acids with a mineral —the mineral is not truly bound to
the amino acid as in a true chelate. For some minerals, the feed industry controlling agencies will not accept the term "amino acid chelate" as a feed additive. So we have used "proteinate" and some of these terms still hang around. Frankly, we use only amino acid chelates. On
the other side of the coin, many manufacturers are using only mineral proteinates but labeling them as amino acid chelates. "Caveat Emptor" (buyer beware!)
Tips for feeding 1 to 1 and 2 to 1
–We suggest the Free Choice Starter Pack as an
introduction to the Free Choice program. It comes
with all 4 Free Choice Products in 5 lb. bags, plus 2
labeled dual compartment feeders to attach to the
stall or run so the products remain dry and protected
from the elements.
–Providing two feeders per horse allows you to offer the
optimum program of 1 to 1, 2 to 1, Izmine™ and NTM Salt™
as the free choices. For a herd situation, you may use larger
containers. You might wish to start with just 5# bags until
you see which products (besides the NTM Salt™) they really
go after, then you can order the most cost effective size of
those products. In some barns where management takes
a dim view of having feeders installed, the trainers simply
go down the aisle daily and offer each horse access to the
bucket of each product. They quickly learn to take some if
they want those particular nutrients.
*Ester-C® is a registered trademark of the Ester-C Company
These statements have not been evaluated by the FDA and are not intended to diagnose, treat, cure, prevent or mitigate any disease. Dynamite Specialty Products takes a firm stance that our products always be used in accordance with the opinions and expertise of your trusted health care professional, doctor and/or veterinarian.