Mardi Gras (2002) is a 14.1 hh Morgan/Welsh mare with a mysterious background. She experienced abuse and extreme neglect during her most impressionable years of development and was rescued at age 3. At age 5 she became my pleasure/therapy mount; her quality of life and long-term health directly affects my own.
Mardi Gras was doing well until around 7, when she slowly started to exhibit signs of metabolic issues. I tried multiple feeds with low starch/no sugar but had no results, but her metabolic issues only became more pronounced with passing time. Then my friend and fellow distributor Kristie Kershaw suggested Dynamite. We crafted a diet plan, with the help of distributors Tracie Seavey-Audette and Judy Sinner, for Mardi Gras that was built completely around the metabolic issues. I was able to start her on it in the fall of 2013. I knew I needed to kick off our fight against this to prevent future problems like Laminitis and Cushings since there is a link. Morgans and pony breeds are on the list predisposed for these conditions.
In September 2013, I started Mardi Gras on Dynamite. After only 9 months into trying to correct Mardi Gras's metabolic issues using Dynamite products, the results are amazing. Mardi Gras is using Dynamite TNT (all around general supplement), Easy Balance (a metabolic/endocrine/nervous system support supplement), and Dyna Pro (a digestive health pre-pro biotic supplement). From the photos (see below) you can really observe the change in the extreme crest of the neck, the reversal of the store of fat padding above and around the tail, and the shape of the belly. Also the additional change to a soft and relaxed stance, demeanor, and expression—from rigid and tense to soft and content. All the previous signs of Insulin Resistance/Equine Metabolic Syndrome that I found so alarming have changed course so abruptly from just 9 months ago. We have had zero care/exercise changes since the fall "before" photos. Every change has been under the same care and steady pasture access as her original photos. It is simply amazing to see so many changes due to the addition of supplements alone, without changing the rest of her diet, grazing schedule, or adding meds. My horse is shifting from what was surely the beginning of a downward health spiral back into thriving good health again, and I couldn't be more excited.

When our horses give us so much joy, why should fantastic feed and supplements be limited to elite equine athletes alone? The basic foundation of equine nutritional needs are universal–water, quality hay, forage, and an extra source of calories, vitamins/minerals. But the quality of all those pieces makes all the difference.
–Julie Babcock, Distributor, Indiana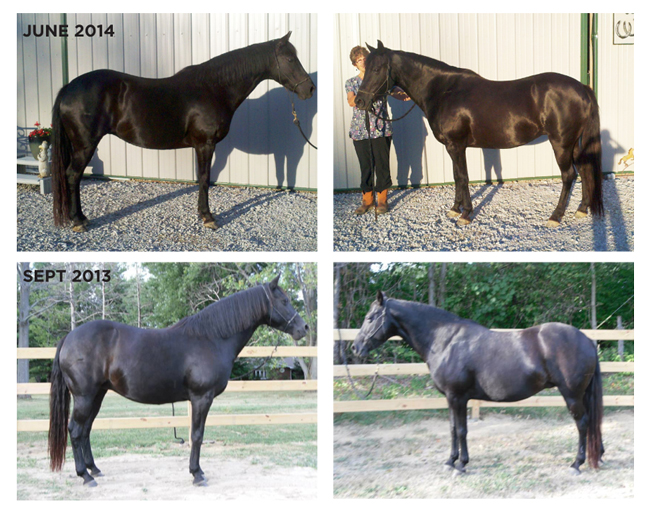 If you have a Dynamite Story you'd like to share with us, please send it to us here.
*The statements made on this page were given freely and are the sole opinions of the author. We always caution that one person's experience is not a guarantee of results. The statements have not been evaluated by the FDA and are not intended to diagnose, treat, cure, prevent or mitigate any disease. Dynamite Specialty Products takes a firm stance that our products always be used in accordance with the opinions and expertise of your trusted health care professional, doctor and/or veterinarian.