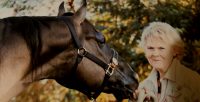 SHERRY OSBORNE
Dynamite Customer
&
"Cree"
2014 Buckin Stallion
Registered: Final Choice – AQHA,FQHA & ABRA

I have been involved with horses since I was a kid. I have shown, trained, and given lessons… I'm not a newbie and my dream is for Cree to be my last horse.
Cree is very special. He was a gift from a very special friend and after I looked up his pedigree I was stunned! Two of my most special horses are on his pedigree – an amazing stud & a mare!
If you look at Cree's eyes, you see such kindness. However, I felt something was just not quite right with Cree: he is NOT mean – he is actually a gentle soul – but he could never be still or leave things out of his mouth. Some people confused his agitation with aggression. At times, I even had to give him a carrot to keep his mouth busy to get him haltered; otherwise he must be muzzled.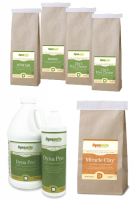 But this isn't the end of his story: I got in touch with my friend, Rock Star Dynamite Director, Linda Young and our lives were changed. Linda researched what I told her about Cree's behavior and she developed a plan. For just over a week Cree has been on Dynamite Free Choice Minerals and DynaPro and Miracle Clay.
Now, Cree is just peaceful and all of his agitation is gone! I still can hardly believe the change and such fast results! What a fast & amazing turn around! The difference puts tears in my eyes. He is not grabbing the stall bars. He's not grabbing everything in his mouth – I can pet his head! He just peaceful and happy! What a journey with a wonderful ending!
My hope in sharing our story is to help others who may have a horse acting as my boy was. It would mean the world to me! How many horses are misjudged in their behavior that could simply be improved with nutrition? I never gave up on Cree and I hope others look to diet and nutrition as a solution also.
Every morning when I walk into the barn and Cree is peaceful and quietly waiting for his morning feed, tears are brought to my eyes. I am so very grateful to Dynamite & Linda Young.
A prayer was answered for me and Cree!