Dynamite provides you the best quality and purest nutraceuticals available through continuous research and development on the ingredients we source and the products we formulate.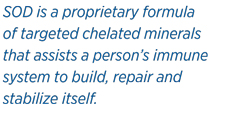 This is the case with one of our most effective and powerful products in our line, Dynamite SOD™. SOD contains the building blocks for the class of antioxidants called superoxide dismutase. Indispensable in defending against the toxicity of oxygen free radicals, SOD is most commonly used to strengthen the immune system during allergy season and in the winter when our bodies are more susceptible to the flu.
Based on current research in the field of immunology, we have recently made SOD ever better! Improvements include:
Changed the form and supplier of our key ingredient and one of the main antioxidant building blocks for the production of SOD, selenium. It is not only more pure, studies show this form works better in supporting the immune system.
Altered the zinc to copper ratio to more closely mimic our body's natural requirements
Added a purer form of magnesium and a new natural flow agent
Complemented the formula with the addition of SOD-enhancing herbs and amino acids to stimulate the body's natural production of SOD