Dynamite's second quarter recipient for the Year of the Horse Project funds is Strawberry Mountain Mustangs, an all-breed rescue and rehabilitation center. Founded in 2005, SMM is verified by the Global Federation of Animal Sanctuaries.


Throughout the last several years, SMM has been instrumental in developing owner-assistance programs, founding hay banks in the area, sponsoring equine health fairs, and educational opportunities for law enforcement.
SMM has also taken an active role in reforming the animal neglect and abuse laws in Oregon–a legacy that will live on beyond their local and state circle of influence. The fight for animal rights is sometimes an uphill battle. In August of 2010, a horse arrived into Strawberry Mountain Mustangs' care that would change laws across the state of Oregon.
On August 12, 2010, Douglas County Sheriff's Department Deputy and Animal Control Officer, Lee Bartholomew, called SMM's founder, Darla Clark. His words will be ones that Clark won't forget. "He said, 'I don't know how to describe to you what I'm seeing; I don't know how she's still standing.'" Clark remembers. What he was describing was a mare, rescuers would later name Grace, that was 400 pounds underweight.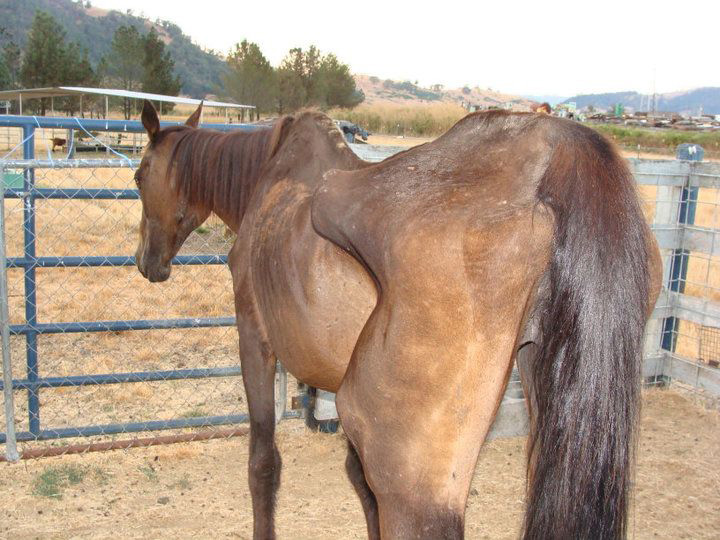 Court documents later reported Bartholomew's description. "You could see every bone protrusion, and there was no fatty tissue in the shoulder area you could see." He also observed that the horse was straining to urinate which can be an indicator of kidney failure. Bartholomew gave the horse a Henneke body score of one out of nine – which means emaciation. Bartholomew believed the horse was suffering and was in immediate danger. "Yeah, anytime you get a horse this skinny internal organs start shutting down. This literally was the thinnest horse I've seen that was still on its feet. It was, of course, wavering. I was afraid it was going to fall over and not be able to get back up," Bartholomew was quoted as saying.
Bartholomew acted quickly and contacted volunteers to trailer the horse for veterinary evaluation. Still standing when she arrived at the vet, Grace received a 0.5 Henneke body score after full evaluation. The vet also determined that Grace had a "really, really bad" heart murmur, which often is related to starvation. Luckily her organs were not failing and did not need an IV or any surgery.
Bartholomew and the vet both knew that caring for a horse in this stage of emaciation takes someone who knows what they are doing. It involves a very slow process of feeding in small amounts and gradually increasing the amounts to normal portions. The day after Grace was seized, Bartholomew took Grace to Strawberry Mountain Mustangs Rescue to see if Darla Clark and her group of volunteers could "bring her back." Darla gladly took on the challenge of nursing Grace back to health. A month later Grace had gained 100 pounds and by the end of the year her heart murmur was gone.
The battle to prosecute the people that had done this to Grace began. The owners were charged with second-degree animal neglect which, under Oregon law, is a misdemeanor. The owner moved to suppress evidence in the case including photos, examination records, body condition scores, and other observations about the condition of the horse. The owner argued that her property and the horse were illegally searched and the seizure had violated the law and no existing doctrines justified Bartholomew's actions in the case. The court denied the owner's request. The owners appealed and were denied again. The case was heard in the Oregon Supreme Court on May 6, 2014 and ruling is expected any day.
"That little mare was quite an inspiration, and she has law enforcement, prosecutors, [and] judges all over the country sitting up and taking notice of several issues, not just the motion to suppress evidence and search and seizure issues," said Clark. One judge who heard the case at the circuit level said in his ruling "age is not a factor in neglect". "Seven little words, but so profound!" says Clark.
Strawberry Mountain Mustangs and the Douglas County Sheriff's Department were instrumental in getting Grace's owner sentenced to 8 months in jail and the co-owner sentenced to 90 days. These were unheard of sentences for misdemeanor animal crimes in Oregon.
Grace's case and others like it are so important as they set precedents with each ruling. Because of this case and others that SMM has been a part, Oregon now has an aggravated neglect statute that makes repeat offenses and multiple animal cases a felony. It's the first of its kind in the nation! Also, due in part to Grace's case, SMM was able to get a loophole closed so that now a judge can prohibit ownership of horses or other livestock after someone is convicted of neglect.  Previously, if you were convicted of neglect of a horse, you would be prohibited from owning any domestic animal for five years, however, horses are classified as livestock.  So while Grace's owner can't own dogs she could legally own another horse! Now that loophole is closed and horse abusers are prohibited from owning domestic animals including horses! This is a huge victory for horses and their advocates.
Grace became the namesake of Strawberry Mountain Mustang's Facebook page. She gained worldwide notoriety on her page as the "face" for animal neglect. Sadly, Grace passed away from health complications in late 2011 but her legacy lives on.
Additionally, SMM was part of the successful passage of a law that made equine abandonment a crime in their state. They worked with wonderful organizations such as the Animal Legal Defense Fund (ALDF) and the Oregon Animal Control Council (OACC) to pass the first Aggravated Neglect statute, making repeat offenders and crimes of neglect in the presence of a child a felony offense. They are continually lobbying for legislation for better laws to protect animals.
Their successful rehabilitation program is unsurpassed and is supported by local veterinarians, law enforcement agencies and the district attorney's office. Together, as a team, they are working to end equine abuse and neglect within their community and set a precedence that can be used nationwide.
From May 1 through July 31, 5% of all equine TNT sales will be donated to the Year of the Horse Project fund to benefit Strawberry Mountain Mustangs. Be sure to check our Facebook page over the next few months for other ways to help this fabulous organization and the important work that they do.