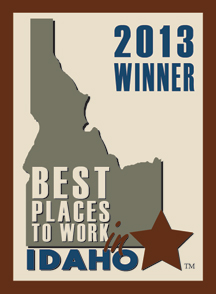 Dynamite Marketing, Inc. has been named 2013 Best Places to Work in Idaho!
We are excited to share that Dynamite was a recipient of the 2013 Best Places to Work in Idaho award! Companies receiving this honor reflect exceptional performance in the areas of Compensation and Benefits, Employee Growth and Development, Work-Life Balance, Workplace Environment, and Company Management. This award is based on the results of confidential employee surveys which were calculated on degree of employee satisfaction in the five dimensions listed.
Anyone who has attended conference in Boise, has toured our facilities and met our crew knows that we are a company who cares deeply about why we are in business. This is reflected in the efforts of our hard-working employees from the person taking your order, to the individual filling your feed bag, to the associate packing your shipment and the people processing your commissions. Each member of our team puts pride into their work and continues to put forth excellent service to make this company what it is. We think Dynamite is a great place to work and are honored to know that others think so, too!