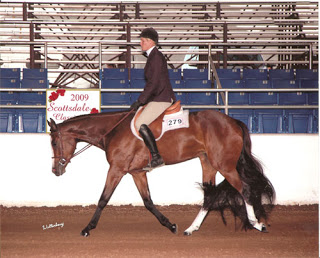 This is Passing The Sign (Princess) who has been on Dynamite products since before she was born. The photo was taken at the Scottsdale Classic Quarter Horse show where she was shown for the first time and was Reserve Champion two year old Hunter Unders Saddle Futurity! I attribute part of this success from the Dynamite products. I would have never attempted having her shown as a two year old if she had not been on these products. Thanks to the Zamzow family for making one of my dreams come true.
—Cathy E. Supervisor, California
If you have a Dynamite Story you'd like to share with us, please send it to us here.
*The statements made on this page were given freely and are the sole opinions of the author. We always caution that one person's experience is not a guarantee of results. The statements have not been evaluated by the FDA and are not intended to diagnose, treat, cure, prevent or mitigate any disease. Dynamite Specialty Products takes a firm stance that our products always be used in accordance with the opinions and expertise of your trusted health care professional, doctor and/or veterinarian.