What is the right choice for my horse?
We recently surveyed Easy Boy and Easy Balance users and asked how they are using these great products.
We found that Easy Boy  is used for several common reasons. Our poll takers answered that they use Easy Boy for the following situations:
• Trailering
• Taking the edge off a horse
• Calming
• Muscle soreness and soft tissue support
• For young horses (first trail rides, parades, first hoof works, etc.)
• Before stressful situations
• Before foaling
• New or nervous show horses
• Calming mares during cycle
• Joint health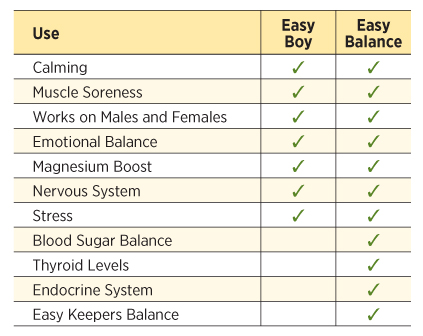 • Focus during training
• Magnesium supplement for low magnesium hay areas
• Sore feet
Easy Balance, however, was used for general calming but primarily for horses with metabolic issues like:
• Insulin resistance
• Laminitis
• Blood sugar balancing
• Founder
• Easy keepers
• General obesity
• "Sleep crashing"
• Cresty Necks
• Cushings
• Sensitivity to touch in flank and barrel
The chart above gives a quick breakdown of the differences between the two products. Each horse is unique in their metabolic make-up just like humans. Sometimes one product will work more efficiently than the other. Contact your distributor to try these products!
Easy Boy Now in 5 lb Bucket and Refill Bag