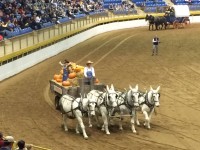 Charlie, Jenny, Pearl, and Nellie are the best Mules a person could ask for! 3 of the 4 of them are 20+ years old! I realized over the years it wasn't what I was doing that made them good, it was what I stopped doing that made them great. The photo was taken at the National Western Stock Show January 2016 in Denver, Colo. They were entered in the Costume Class. They did a wonderful job!
Since becoming a Dynamite Distributor I realized I didn't need to do all the "mainstream" things to keep the mules healthy. I've stopped using chemical wormers and vaccinations and I don't have to put shoes on them to keep them healthy! I have realized by feeding a high quality and balanced diet it keeps the entire animal, including the brains and hormones, healthy and happy! I feed Dynamite's Free Choice Minerals, Miracle Clay, Dyna Pro, SOD and the highest quality grass hay I can find, the mules always are in tip-top shape.
Thank you Dynamite for helping my mules be the best they can be!
– Terri W., Distributor, Colorado
*The statements made on this page were given freely and are the sole opinions of the author. We always caution that one person's experience is not a guarantee of results. The statements have not been evaluated by the FDA and are not intended to diagnose, treat, cure, prevent or mitigate any disease. Dynamite Specialty Products takes a firm stance that our products always be used in accordance with the opinions and expertise of your trusted health care professional, doctor and/or veterinarian.