Kelani and Laurie Baker, Dynamite Director, CA
A rescue horse and her animal communicator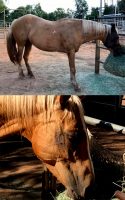 July 14, 2017  –  Laurie: I am posting before and after pictures of my new abused Mexican tripping horse Kelani (Genevieve) rescued from auction in February as she was ready to go to slaughter because nobody wanted her. She was obviously drugged because of her aggression, and also not tied and cuddled up to her friend Gage because she does not tie and has so much head trauma from pullbacks etc. Kelani collapsed four times on video at the auction that day and was severely dehydrated. I have adopted her and love her dearly. We are cleaning her up inside and out. Flooding her heart with our love and feeding her body with nutrition and good food. I have begun treating her scars with Dynamite Wound Balm, a natural product consisting of over 70 minerals that I have been selling for nearly 20 years and using on a regular basis to remove scars, dissolve ringbone and side bone, along with other benefits that I have experimented with over the years. I am confident all the scars will be gone, with her true hair color growing back through where the scars used to be. I have seen it over and over again with all of my horses and will be posting the updates and results. Stay tuned for a scar free beautiful Palomino!!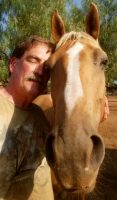 July 20, 2017  –  Kelani: Look at me and my Mike doing a selfie together!! Mike never did a selfie before. Only with me! He loves me and adores me and I feel the same about him! I'm learning that some men are nice and that's why he's healing me too ❤️
July 29, 2017  –  Kelani: Just look at me now!  I'm trying out these Dynamite Minerals Laurie put out for me today. Delicious! 

July 30, 2017  –  Kelani:  Look at me now five months later looking beautiful and feeling loved. Laurie still working on my body as I was severely abused. I was a Mexican tripping horse and have been tripped and flipped upside down to many times to count. I have scars on three of my legs and throughout my body. Laurie is working on healing me and supplying me with only the best nutrition and herbs as well as a full selection of minerals and salt. Dreams really do come true!