TINA SPANGLER, Dynamite Director
TLC Barrel Horse Training in Groveland, Florida

My Dynamite Foundation story, a foal born with Dysmature!
Nonstop Rock Star, aka "ROCKY Balboa the Fighter"
People say I saved him, but he saved me too!
I want to share a special story with you. 2016 was a challenging year for me. After 24 years of marriage, a divorce in March left me unsure of what I would do with my future.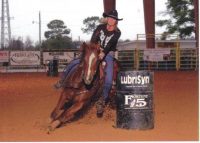 Should I stay on my farm and keep doing my barrel horse training business, sell the business, or go on the road and figure out what I wanted to do next with my life now that my son was in college and my husband was gone?
In April, I had another situation weighing on my mind too as I was doubting whether or not I should even purchase the foal I had hand shook on the year before. We had agreed that at weaning time that I would take the foal, which ended up being in December of 2016. The foal was from my retired 1D barrel horse (Maggie) that I sold as a broodmare to a friend 2 years before. She was retired only because she had a lame right front foot and could not ride anymore. I never sell my personal horses, but I knew she would have a great home as a broodmare, living her life out with other mares in a big grass pasture! Needless to say, I was excited to a get foal from her…before my life changed so much.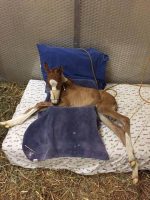 On May 28, 2016 (coincidentally my wedding anniversary weekend) Maggie had her foal. A maiden mare at 14 years old, she was overdue by 3 or 4 weeks. Concerned, her owner called me, "The foal was born, but was super small and did not look well."
My immediate reaction was, "Call the vet, I am on my way!"
When I got there it did not look good. He was too small and weak to reach mama's milk, the vet and the ladies were getting him colostrum milk in a bottle, IV fluids, and other things. The vet said it was highly unlikely he would make it at the farm.
So I said, "Then let's haul him to the hospital!"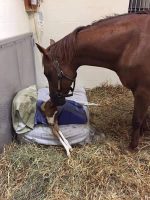 We hauled him into Peterson and Smith in Ocala, Florida to the ICU of the reproduction barn. All of the vets looked at each other wide-eyed, he was the smallest horse foal they had ever had at their facility. He only weighed 30lbs, a normal quarter horse foal is 60 to 80lbs. However, the team of vets did an amazing job and went to work on him right away with much needed ICU care (X-rays, blood work, and more).
When the vets came to me to explain his condition they said he was Dysmature. This occurs when a mare's placenta is too small and the foal does not get enough nutrition. In the case of this foal, his skeletal size was normal, but he was emaciated. My poor foal had eye ulcers in both eyes, high white blood cell count, E. coli bacteria, big dome head, ski slopes for pasterns, skinny weak body, and could not reach his mom's milk bags. Despite all of these issues he had one thing going for him that he would prove to all of us, he was a FIGHTER!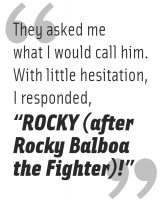 The vets said if he made it through the night that would be good. The next morning, I came back and he still could not get up well, but he was drinking from a bottle and continuing to fight. They asked me what I would call him. With little hesitation, I responded, "ROCKY (after Rocky Balboa the Fighter)!"
Rocky had to stay in the ICU for 3 days. So I had 2 days from knowing he was out of the ICU to set up my barn for him. Mind you, I have never had a horse younger than 2 years old in my barn. To say I was scared was a HUGE understatement, but I wanted him to live.
On the 5th day he came home to me and would require around the clock care to be sure that he
 was nursing every 2 hours. There were also eye treatments, antibiotics in an IV, and because of his delicate size, keeping mom from stepping on him was also a challenge (hence the mattress you see in the pictures). Additionally, I immediately put Rocky and his mom Maggie on Dynamite Foundation. Knowing the amount of drugs he had been given, along with strong antibiotics, I wanted to get vitamins, minerals, and prebiotics in them both.
At 5 days old, and from day 1 in my barn, Rocky has been a Dynamite Baby!  He got the vitamins and minerals in the milk he received from his mom, and orally I also gave him the Dyna Pro prebiotic, along with Miracle Clay.
I will be honest, the first two weeks were tension filled! I wanted Rocky to live, but did not have the team of vets there to hold my hand through it. Many phone calls were made and they helped me often. At this point, the farm vet took over with his weekly blood work, lung exams, and such. We weren't out of the dark yet though, as Rocky started having seizures.
The vets said that this was common in Dysmature foals, issued medical prescriptions, and said that he would grow out of it. At this time, I also added Dynamite Relax, Release, and essential oils to the daily regime. Thankfully the seizures only went on for about 2 weeks, as there was the constant fear that he would have one, fall over, and hit his head on something. I was ever so thankful for my friends who provided advice, console, and prayers. This all in addition to babysitting, bringing me dinner, and donating to help cover Rocky's vet bills.
At a month old Rocky was now healthy and growing like a weed! He loved to play with his ball,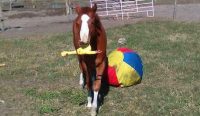 and the scary feelings that I previously was experiencing were now replaced with joy as he was starting to just be fun.
After we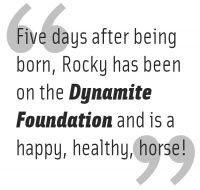 aning at 7 months old Rocky was doing great and Maggie returned to her owner. Rocky was able to pony off my mare Sister, lunge, lead, and tie. All this in addition to playing with his jolly balls and just loving life. Five days after being born, Rocky has been on the Dynamite Foundation and is a happy, healthy, horse!
He has also turned out to be a great distraction for me, filling my heart with joy and love. I am ever so thankful for Peterson & Smith vet care, my farm vet, my friends, and for Dynamite Holistic Products.
My personal competition horses (and Rocky) get TNT Foundation. They also have been on the Dynamite Foundation on and off for the past decade, and consistently since 2014. Furthermore, my retired horses and training horses are on the Dynamite Foundation program as well.
I love keeping my horses as close to natural as possible. I feel it strengthens their immune system, allowing them to use their nutrients better with quality grass, hay, and low (to no) feed diets.
https://youtu.be/q42PYOKbM6c Maggie and I placing 7th 1d with 250 riders
https://youtu.be/VhJ4_6TaEv0 Rocky playing with his jolly ball at 2 months old