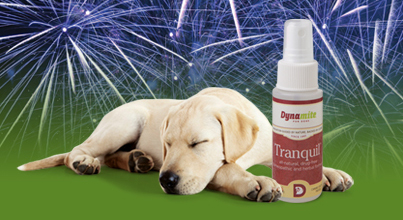 Nothing is worse than trying to calm your trembling dog or horse during a 4th of July fireworks display. You hope that it will only last an hour but inevitably it starts early in the morning, when the neighborhood kid lets off a fire cracker, and ends late at night when that same neighborhood kid can't help but finish off his personal pyrotechnic collection. Prepare for the day by purchasing Dynamite Tranquil, an all-natural, homeopathic, and herbal formula used to help your animals stay calm during traumatic situations.
Dynamite Tranquil is best used when an acute situation presents itself, such as during fireworks, traveling, vet visits, kenneling and other stressful events. It may also be used for a few days prior to training to assist the animal in remaining focused, centered, and breathing properly. Click below for an informative video by our COO, Jos Zamzow, on how owners use Tranquil and another popular Dynamite product, Relax, to help their animals.
Please contact your independent distributor to order and may all your animals have a safe and calm 4th of July!
"Tranquil is a lifesaver! New Year's Eve and 4th of July used to be nightmares at my house, but not anymore. My Dalmatian would literally tremble for hours while my hound and retriever would feed off her energy as well. None of them would go out to "do their business" before bedtime. It used to be so frustrating. Two doses of Tranquil —one with the evening meal and one about an hour before I think the fireworks are going to start—does the trick.
—Erin Elam
 D. South Carolina