We are always thrilled to hear when our products not only improve the lives of creatures, but also aid in their success. We would like to extend a big congratulations to DeAnna Greulich and her Dutch Warmblood "Hamira" (aka Ruby), who just achieved a major accomplishment with their recognition as the 2013 North American Champion for Yearling Hunters from the KWPN-NA (Royal Dutch Sport Horse).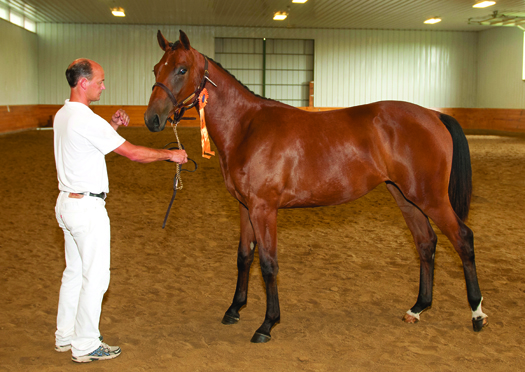 The KWPN-NA is the North American Department of the KWPN which is one of the largest Warmblood studbooks in the world, and has consistently placed at the top of the world rankings for jumping and dressage. The KWPN has distinct criteria for excellence in the Hunter division. KWPN states that "the modern-day hunter division finds its origins in the fox hunts of 18th century England. Nowadays, the focus is on an easy ride with light rein contact. Hunter courses consist of natural-looking jumps, and horse/rider combinations are judged on style. A hunter is a beautiful horse with a well-bred, noble presence; and its comfortable, flat movement makes it easy to ride. Furthermore, a good hunter is characterized by its steady and cooperative temperament. [Hunters] possess good conformation, a fine temperament, and outstanding jumping talent."
DeAnna actually wasn't anticipating Ruby to be a Hunter. Her bloodlines are Sir Sinclair x Lectra x Adelrootnoot. Her sire, Sir Sinclair, is a successful Dressage stallion out of Iron Spring Farm. DeAnna noted, "I bred to him because of his temperament, conformation, bloodlines, and the huge success of his offspring. As I was watching Ruby develop it became obvious that she didn't have the traits that are looked for in a dressage horse, but when she would canter across the pasture she was a 'picture perfect' hunter. Great rhythm. So when it was time to designate her breeding direction I signed her up as a Hunter. You can imagine my surprise and gratitude when she received the title of 'North American Champion' for Yearling Hunters. I'm tickled pink. A good nutritional program is a must and I feel that Dynamite has helped her in her journey."
Ruby's protocol includes Dyna Pro, Dynamite and Free Choice Minerals. DeAnna also uses Herbal Tonic on a seasonal basis for parasite control. DeAnna really understands that success starts with a solid foundation. "Because of Ruby's good feeding program she can look and feel her best and I am grateful for her health. I thank Dynamite for helping me in my breeding program."


If you have a Dynamite Story you'd like to share with us, please send it to us here.
*The statements made on this page were given freely and are the sole opinions of the author. We always caution that one person's experience is not a guarantee of results. The statements have not been evaluated by the FDA and are not intended to diagnose, treat, cure, prevent or mitigate any disease. Dynamite Specialty Products takes a firm stance that our products always be used in accordance with the opinions and expertise of your trusted health care professional, doctor and/or veterinarian.