"I started using Dynamite on my 8 year old paint mare Eightsecond Spinner the first of January this year. I had been running her for just over a year when I started her on Dynamite. We stayed at the bottom of the 4/5D the whole time never getting any faster or winning any money.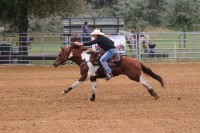 We went to our first show of the year a month after being on Dynamite and won our first ever paycheck. And then again the next weekend won enough to pay for the whole weekend! We quickly made our way to leading 5th division of National Barrel Horse Association (NBHA) but that didn't last long as we are now sitting pretty in the 3rd division and she is still running harder every run! Her mind has stayed incredibly calm and before Dynamite I would have to work her quite a bit and then let her sit for an hour before we ran because she would buck during our run. But now since Dynamite there is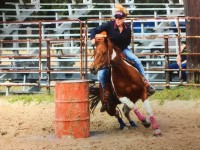 no more buck and on multi-day shows she is her strongest on the last day and just fires even harder. She is on whole oats, Dynamite and The Free Choice Minerals and we will be adding Dyna Pro soon."
-Monica Middleton King, Dynamite customer
If you have a Dynamite Story you'd like to share with us, please send it to us here.
*The statements made on this page were given freely and are the sole opinions of the author. We always caution that one person's experience is not a guarantee of results. The statements have not been evaluated by the FDA and are not intended to diagnose, treat, cure, prevent or mitigate any disease. Dynamite Specialty Products takes a firm stance that our products always be used in accordance with the opinions and expertise of your trusted health care professional, doctor and/or veterinarian.