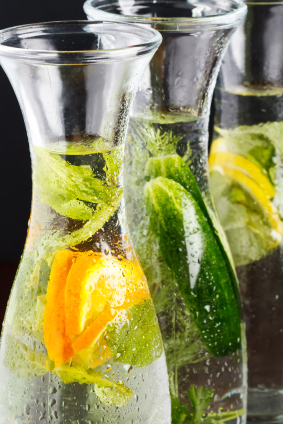 When you are on the 180 Protocol, whether it be for weight loss or for detox, water is an imperative piece of the puzzle. Being properly hydrated assists your body in flushing the toxins it is releasing from the "bad fat" stored in your body. Without this flushing process those toxins will just get reabsorbed by your body.
If you weigh between 120-150 pounds you should be drinking 70 oz of water daily on the 180 protocol. If you weigh between 150-180 pounds you should be drinking 80 oz and for anyone over 180 pounds we recommend 90 oz of water daily. Some days that alone feels like a daunting task.
Have you ever had a day where you feel like you just can't drink another glass of plain ol' water? Some days are definitely easier than others to get reach your water quota. For a little extra help, try these 180-approved recipes for flavored water.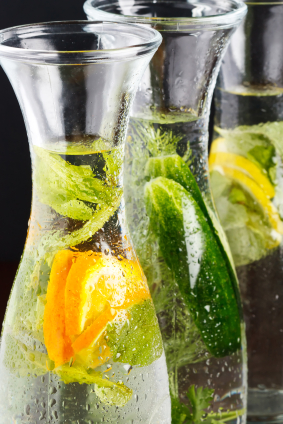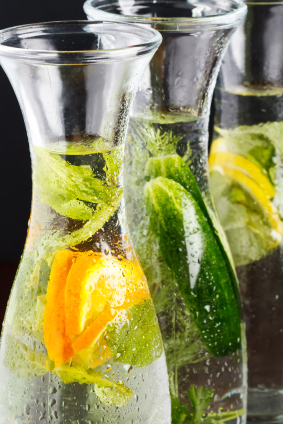 Apple Cinnamon Water  Slice one whole apple thinly and place in a large pitcher with 2-3 whole cinnamon sticks. Cover with ice then fill pitcher with purified water. Let sit several hours or overnight if possible.
Cucumber Spa Water  In a large pitcher add one sliced, unpeeled cucumber; ½ lemon, sliced; and 4-5 mint sprigs. Fill with purified water and chill 24 hours if possible.
"Lemonade"  Combine the juice of ½ lemon and several drops of liquid stevia (depending on how sweet you like it) with 8-12 oz purified water. Stir and add ice.
Strawberry Water  Slice several fresh strawberries and place in a large pitcher. Fill pitcher with purified water. Place in fridge and let sit several hours.