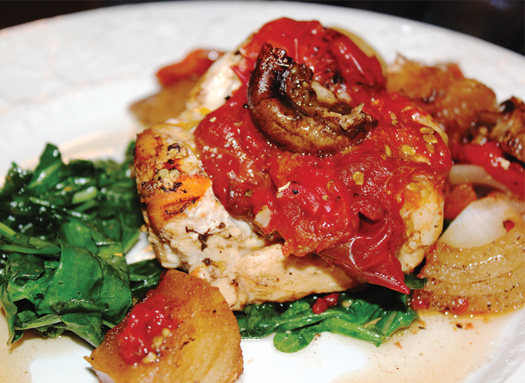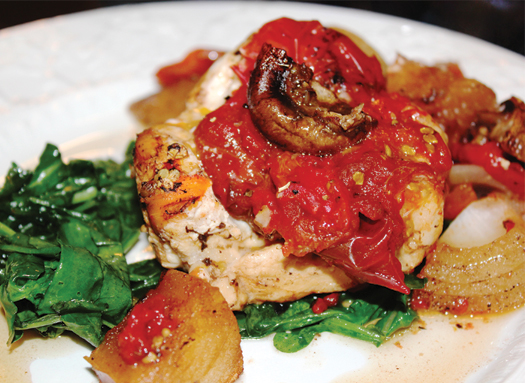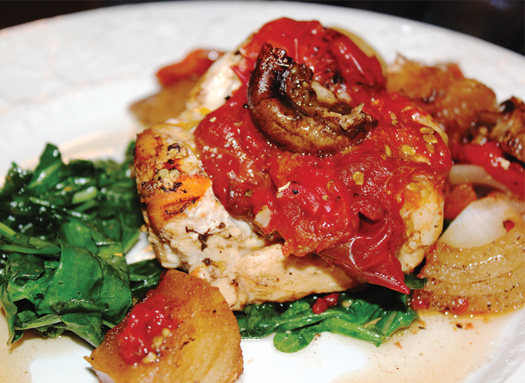 180 Protocol Approved Recipe
Fit For Fall 2012  |  Gabriella Valsecchi
Prep time 10-15 minutes
Cook time 45 minutes
2 boneless skinless organic chicken
breasts, cut into 3–5 oz servings
1 heirloom onion, quartered
2-4 heirloom tomatoes, quartered
½ box  crimini mushrooms, quartered
1 organic apple, quartered
1 cluster heirloom garlic, minced
collander full of organic arugula
¼ to ½ cup of balsamic vinegar
seasoning spice blend (like Trader Joes' 21 Seasoning Salute)
Preheat oven to 425°F.
Arrange vegetables, apple and chicken in large baking dish. Pour enough balsamic vinegar over chicken and vegetable mixture to coat evenly. Sprinkle with seasoning spice as desired. Bake for 45 minutes, turn chicken once at 30 minutes for even browning.
5-7 minutes before Chicken is done start arugula. In a large stainless pan on medium heat, place an ounce of water or balsamic vinegar or both. Add arugula to pan and wilt. Turn arugula several times until the leaves turn dark green in color. Should take a few minutes. Do not overcook.
To plate add chicken and vegetables in the center of the plate. Arrange wilted arugula around chicken and vegetables. Add a baked tomato and mushroom for garnish to the top of dish. Bon appetite!!
To learn more about the Dynamite 180 Program click here.