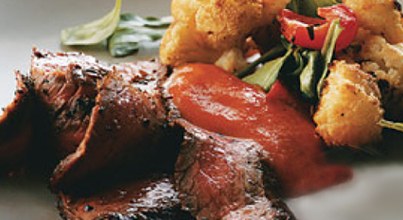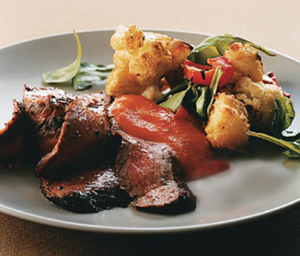 180 Protocol Approved Recipe
Adapted from Gourmet  | March 2005
photo by Romulo Yanes
1 large head cauliflower (2.5 lbs), cut into 1½" wide florets (8 cups)
2 lbs tomatoes (about 5 medium), cut into 1-inch squares
4 large garlic cloves, peeled
2 teaspoons fresh thyme, chopped
NTM salt and coarsely ground black pepper
1 (1-lb) piece flank steak, halved lengthwise (along the grain)
3 oz baby arugula
½ cup chicken broth
2 teaspoons red-wine vinegar, or to taste
Put oven rack in upper third of oven and preheat oven to 500°F.
In a large bowl toss cauliflower, tomatoes, and garlic with a little broth to wet. Add 1 teaspoon of thyme and ½ teaspoon of salt and pepper to bowl and toss to coat. Spread in a large shallow baking pan (at least 15 by 10 inches) and roast, turning over once or twice, until vegetables are tender and slightly browned, 25 to 30 minutes. Add more broth if needed to keep from drying out.
While vegetables roast, stir together remaining teaspoon thyme, 1 teaspoon pepper, and ¼ teaspoon NTM salt in a small bowl. Pat steak dry and rub both sides with spice mixture.
Preheat a dry, 10-inch, heavy skillet (not nonstick; preferably cast-iron) over moderately high heat. Add steak to hot skillet and sauté, turning over once, 5 to 7 minutes total for medium-rare. Steak may also be grilled if desired.
Transfer steak to a plate and let stand for 5 minutes, loosely covered with foil, saving any juices that release from steak.
Reserve roasted garlic cloves and 1 cup roasted tomatoes. Toss arugula with remaining roasted vegetables in pan to wilt, then transfer to a platter.
Blend reserved garlic and tomatoes with broth, vinegar, steak juices, and salt and pepper to taste in a blender until smooth. Transfer sauce to a small bowl or sauceboat.
Place steak on cutting board. Holding a knife at a 45-degree angle, cut steak across the grain into thin slices and arrange on platter with vegetables. Pour any juices accumulated on cutting board over meat and serve sauce on the side.
Makes 4 servings
To learn more about the Dynamite 180 Program click here.